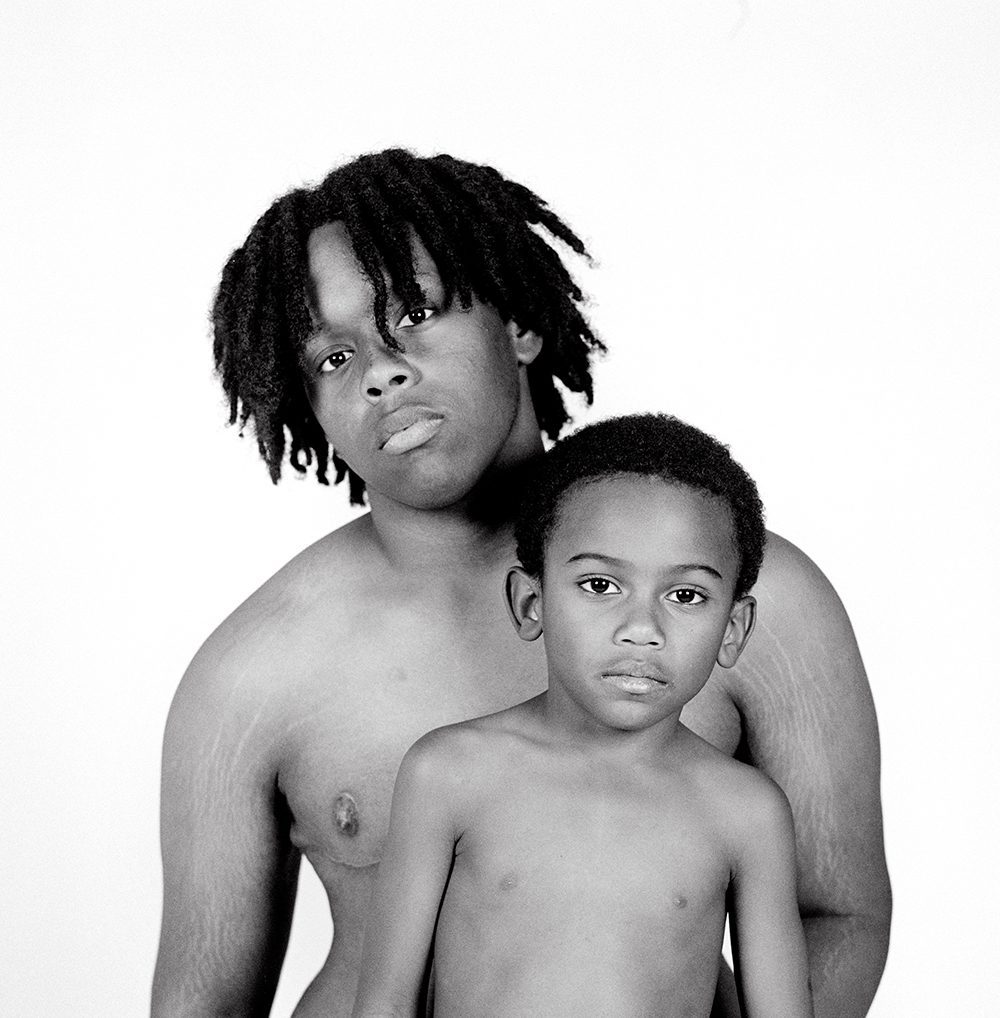 "Just two black boys who are both still growing into their selves."
Deze foto is de winnaar van de PRIDE PHOTO AWARD 2023. Volgens de juryleden een ontwapenende eerlijkheid zelfportret van een jonge transman, dat de kijker uitnodigt om dichterbij te komen en zich in het verhaal te verdiepen om het beter te begrijpen. Dit is in wezen het kerndoel van PRIDE PHOTO.
photographer website
kydsmiley@gmail.com
Instagram
"Just two black boys who are both still growing into their selves."
Ky Smiley poseert voor een zelfportret met zijn 6-jarige broer in Columbus, Ohio. Hun vader is aanwezig bij de shoot en steunt zijn talenten. Ky werkt vaak samen met zijn familieleden en gebruikt zijn fotografie om zijn identiteit en plaats in de maatschappij te verkennen.
Hij schrijft: "Mijn top-operatie bespreken met mijn broertje is een stuk eenvoudiger en meer verhelderend geweest dan ik me had voorgesteld. Hij hielp me tijdens het herstel en daarvoor ben ik hem zeer dankbaar. We hebben allebei baat gehad bij het creëren van een veilige en open dialoog en ik weet dat het ons beiden zal helpen op onze weg naar groei en acceptatie."
Over de fotograaf
Ky Smiley komt uit Columbus, Ohio. Hij heeft er zijn hele leven gewoond en het is cruciaal geweest voor zijn begrip en artistieke kritiek van hedendaagse zwarte en queer-gerelateerde kwesties. Sinds de middelbare school is hij geïnteresseerd in fotografie en het unieke vermogen ervan om de dialoog aan te gaan met verschillende onderwerpen.
Vanaf zijn eerste jaar aan de universiteit investeerde hij meer tijd en geld in het verwezenlijken van deze ideeën en werd hij verliefd op het medium. Toen hij eenmaal in staat was de wereld door een lens te bekijken en als reactie daarop beelden te creëren, werd zijn passie nog groter. Hij heeft voornamelijk gewerkt met familieleden als een manier om zijn eigen perspectief te begrijpen met betrekking tot de intersectionaliteit van zijn identiteit en zijn plaats in de samenleving in het algemeen.
Ky Smiley poses for a self-portrait with his 6-year old brother in Columbus, Ohio. Their father is present at the shoot and supportive of his talents. Ky frequently works with his family members and uses his photography to explore his identity and place within society.

He writes, 'Learning how to discuss my top surgery with my little brother has been simpler and more enlightening than I could have imagined. He helped me during recovery and I can not be more thankful. We have both benefited from our creation of a safe space for dialogue and I know it will help in both of our journeys of growth and acceptance.'
This photo is the winner of the PRIDE PHOTO AWARD 2023. According to the jury, a disarmingly honest self-portrait by a young trans man, that invites the viewer to come closer and delve into the story to understand it better. This is essentially the core purpose of PRIDE PHOTO.
About the photographer
Ky Smiley is from Columbus, Ohio. He has resided there his whole life and it's been crucial to his understanding and artistic criticism of modern-day Black and queer-aligned issues. He has been interested in photography and its unique ability to confront various subject matter since high school.
Starting his freshman year of college, he invested more time and money into actualizing these concepts and has fallen in love with the medium. Once het was able to view the world through a lens and create images in response, his passion manifested even more. He has been primarily working with family members as a way to understand his distinctive perspective as it pertains to the intersectionality of his identity and place in society overall.