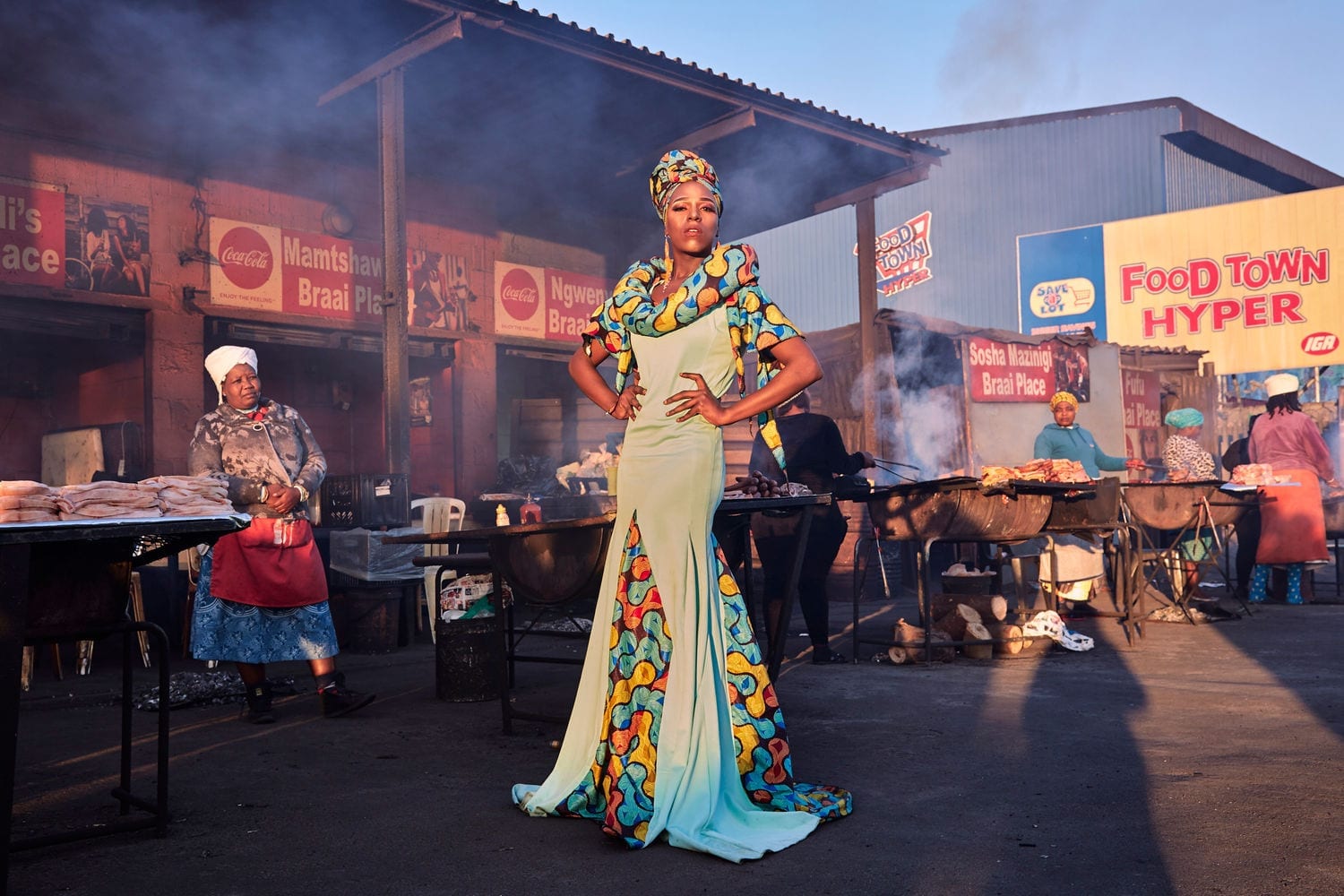 De serie #BlackDragMagic van fotograaf Lee-Ann Olwage, vertelt de verhalen van Zwarte queer, gender non-conforme en transgender mensen die wonen in de townships van Kaapstad. Het leven is voor deze groep een uitdaging, omdat ze dagelijks worden blootgesteld aan pesterijen, geweld en discriminatie. Met dit fotoproject wil Lee-Ann Olwage juist de kracht en rijkheid van deze groep op een positieve manier benadrukken. De serie gaat over migratie, cultuur, gender en seksuele identiteit. De deelnemers aan het project project werd gecreëerd mochten zelf bepalen op welke manier zij zichzelf wilden laten zien.
Olwage wil met deze serie Afrikaanse LHBTQ+ gemeenschap laten inzien hoe belangrijk het is om zich te uiten, ongeacht hun achtergrond, en om de publieke ruimte terug te winnen in een gemeenschap waar zij maar al te vaak als derderangs mensen worden beschouwd. Het maken van deze fotoserie was voor de deelnemers een radicale en progressieve daad verzet hier tegen.
Over de fotograaf
Lee-Ann Olwage is een visuele verteller en fotografisch artiest uit Zuid-Afrika. Haar werk draait om identiteit, samenwerking en viering. Ze is geïnteresseerd in het gebruik van het medium fotografie als een manier van viering en co-creatie. Met haar samenwerkingsprojecten op lange termijn wil ze een ruimte creëren waar mensen waarmee ze waarmee ze samenwerkt een actieve rol kunnen spelen in de co-creatie van beelden waarvan ze vinden dat ze hun verhalen vertelt op een manier die bevestigend en feestelijk is.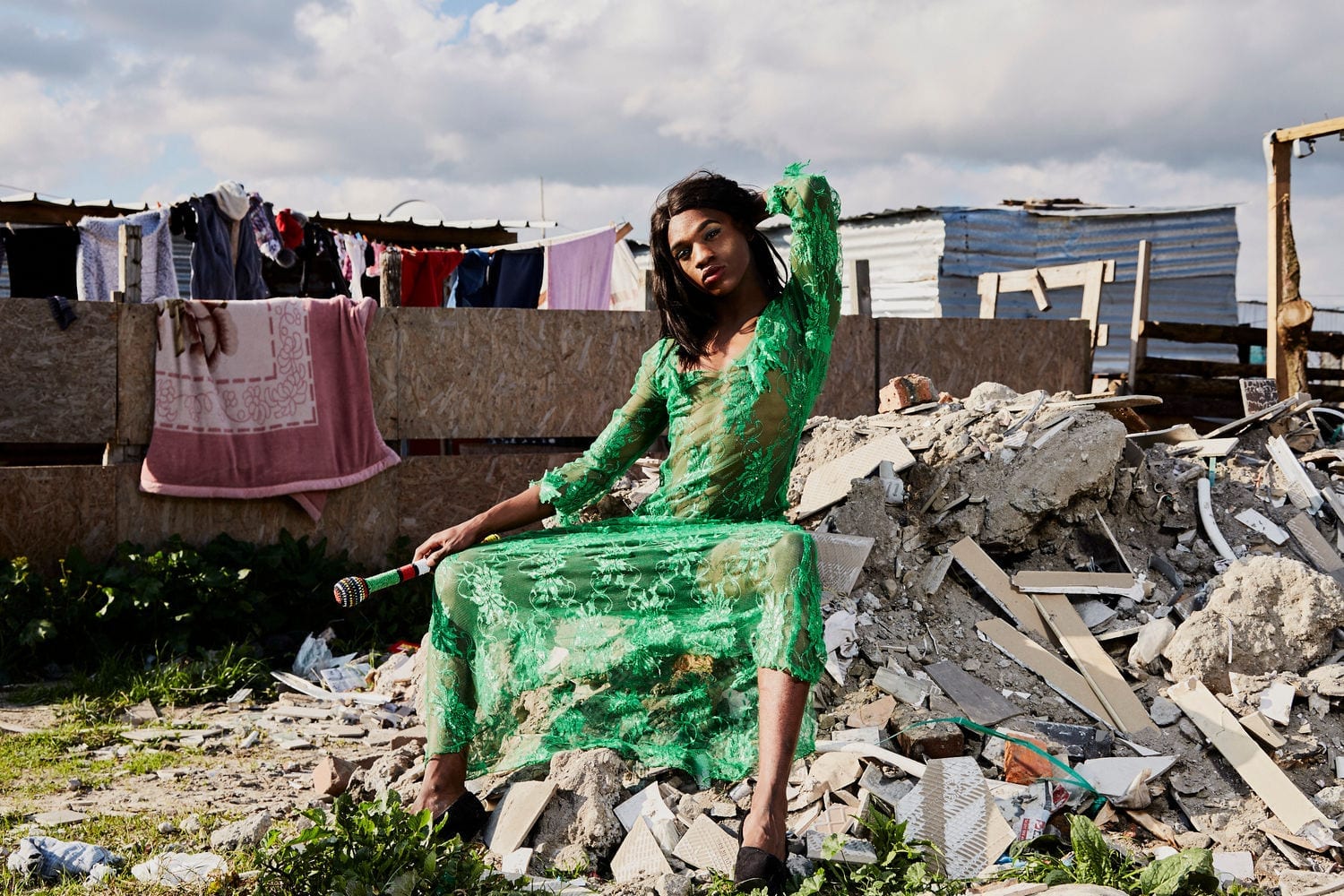 Unathi Ferguson, is a dancer from Khayelitsha, an informal settlement located on the Cape Flats in the city of Cape Town, where the project was shot. Unathi was outed by a teacher in 11th grade for being gay, but eventually saw the moment as a chance to "embark on a journey to sanity and complete acceptance of who I was."
"The township carries a deeply interlaced notion of a sense of belonging and if you don't meet the requirements of the space you are often marginalized or othered. Growing up in the township as an effeminate masculine body, there are various tags attached to your being. People often said my sexuality and gender expression confused them. I use to hide and deny my queerness." Aug. 4, 2019.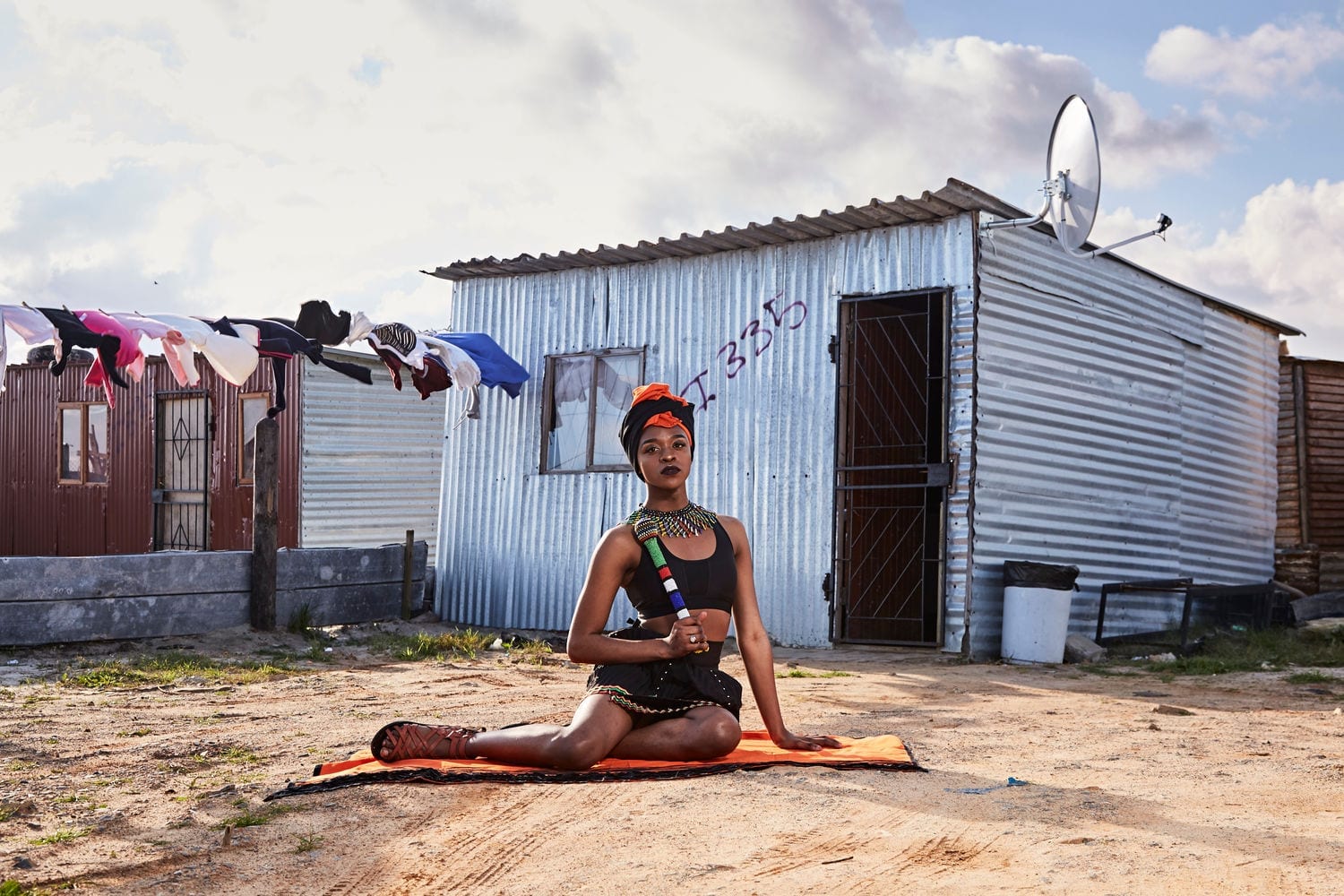 Mthulic Vee Vuma (Thuli), a transgender woman from Lingelihle township in Malmesbury, is pictured in front of a shack in Khayelitsha dressed in traditional female Xhosa clothing. This is done to challenge binary thinking that strongly differentiates between masculine and feminine traditional clothing.
"Here we use our own culture to frame our identity, even though this contest the societal norms and gendered dress codes that are set in our culture. We frame our identity by tying together our stories of subjectivity and culture," Vuma says. Her family initially struggled to accept her as a transgender woman, believing it was a curse, but she says they now give her total support. Aug. 4, 2019.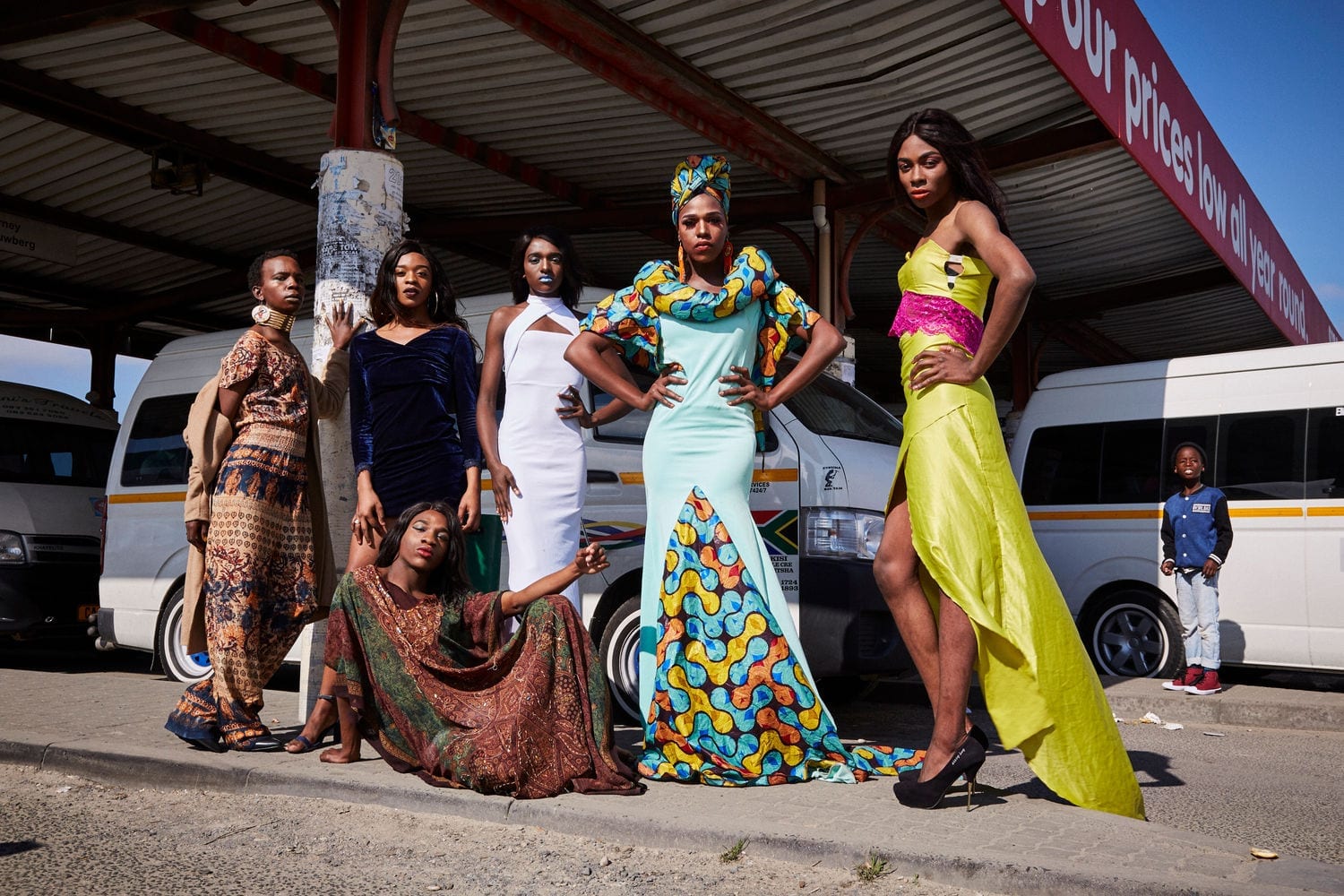 The team of #blackdragmagic pose for a group shot at the taxi rank in site C Khayelitsha. Taxi ranks are often described as a hub of homophobia and a space where members of the LGBTQ+ community are subjected to harassment, violence, and discrimination on a daily basis.
With this portrait, the group intends to send a clear message that public and community spaces need to be safe spaces for members of the LGBTQI+ community. Aug. 4, 2019.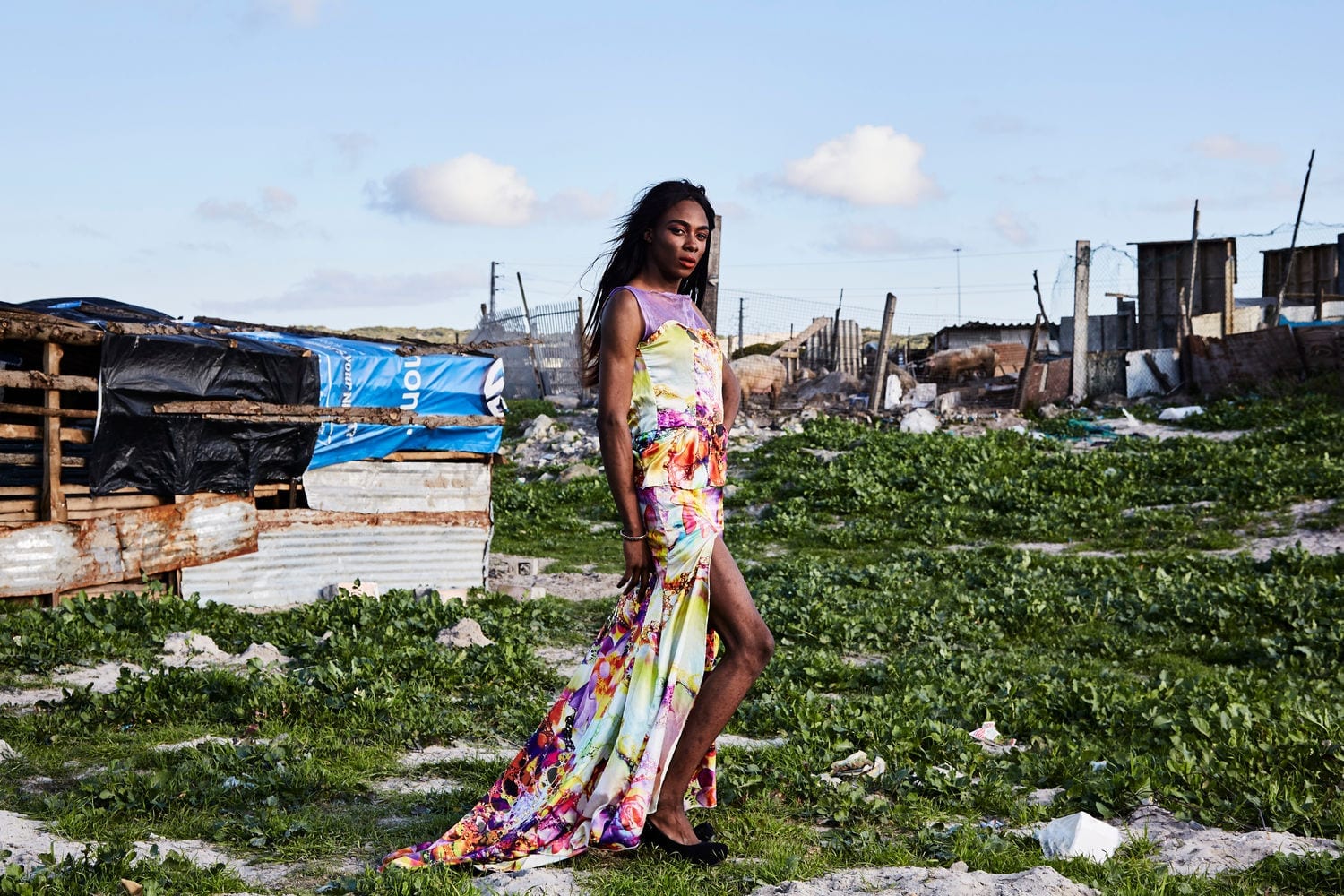 Shakira Mabika, who identifies as a trans woman, emigrated to South Africa from Zimbabwe, where former president Robert Mugabe, "has referred to people like me as 'pigs' and un-African." She chose to be photographed by dilapidated shacks where pigs were kept behind a fence.
"I moved to Cape Town, South Africa in search of a space where I could live my truth," she says. After that move in 2013, she has faced transphobia and xenophobia and still hasn't found a job. Aug. 4, 2019.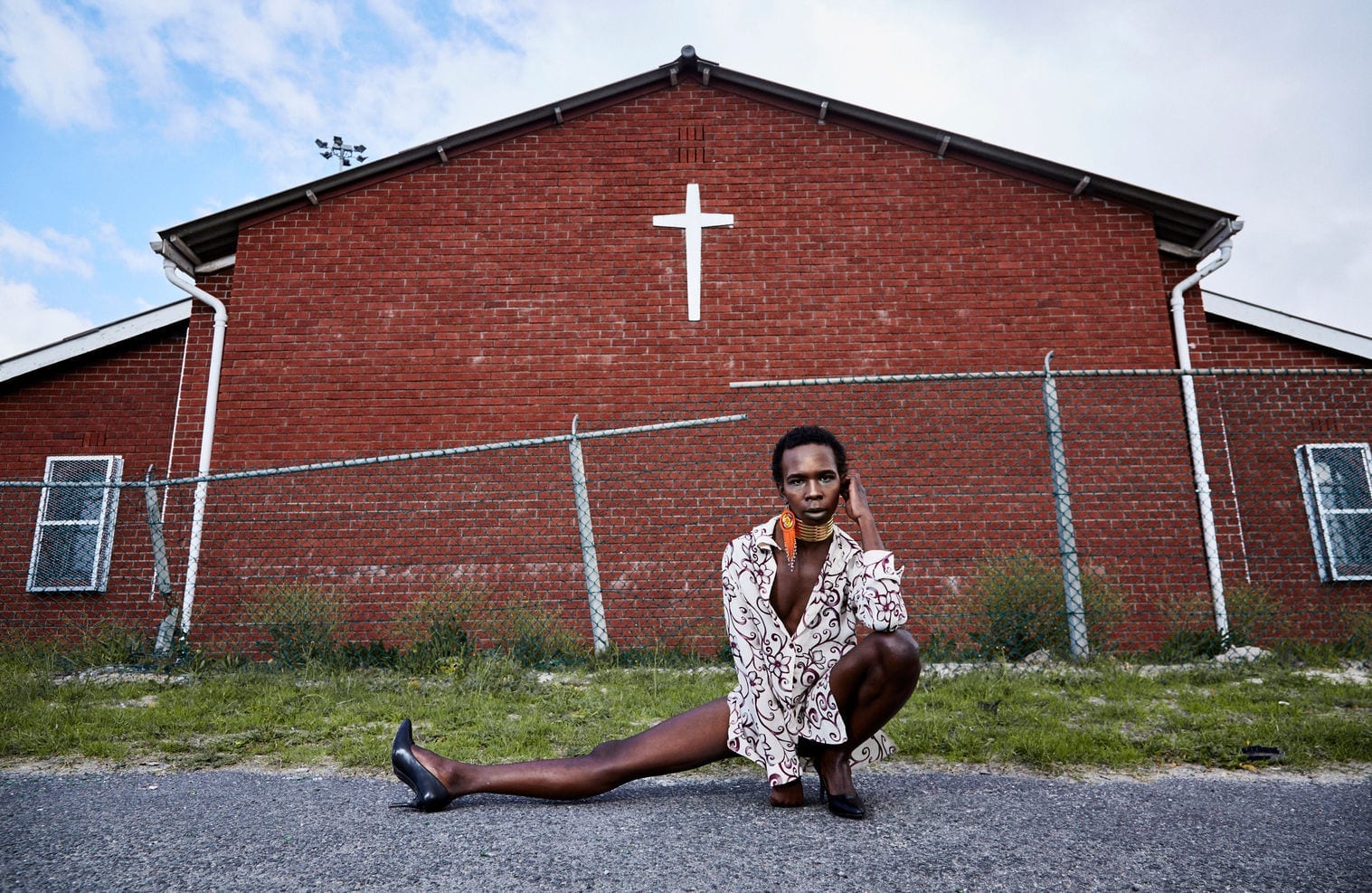 Mandisi Dolle Phika a gender non-conforming person from Paarl, chose to create her portrait in front of a church in Khayelitsha.
"The church is often used as an institution to promote anti-queerness; so I chose the church as a way of reclaiming our sacred spaces and to give visual meaning to the God we believe loves us the way we are. I believe that a colourful God exist, one that appreciates and celebrates diversity in all its manifestations." Aug. 4, 2019.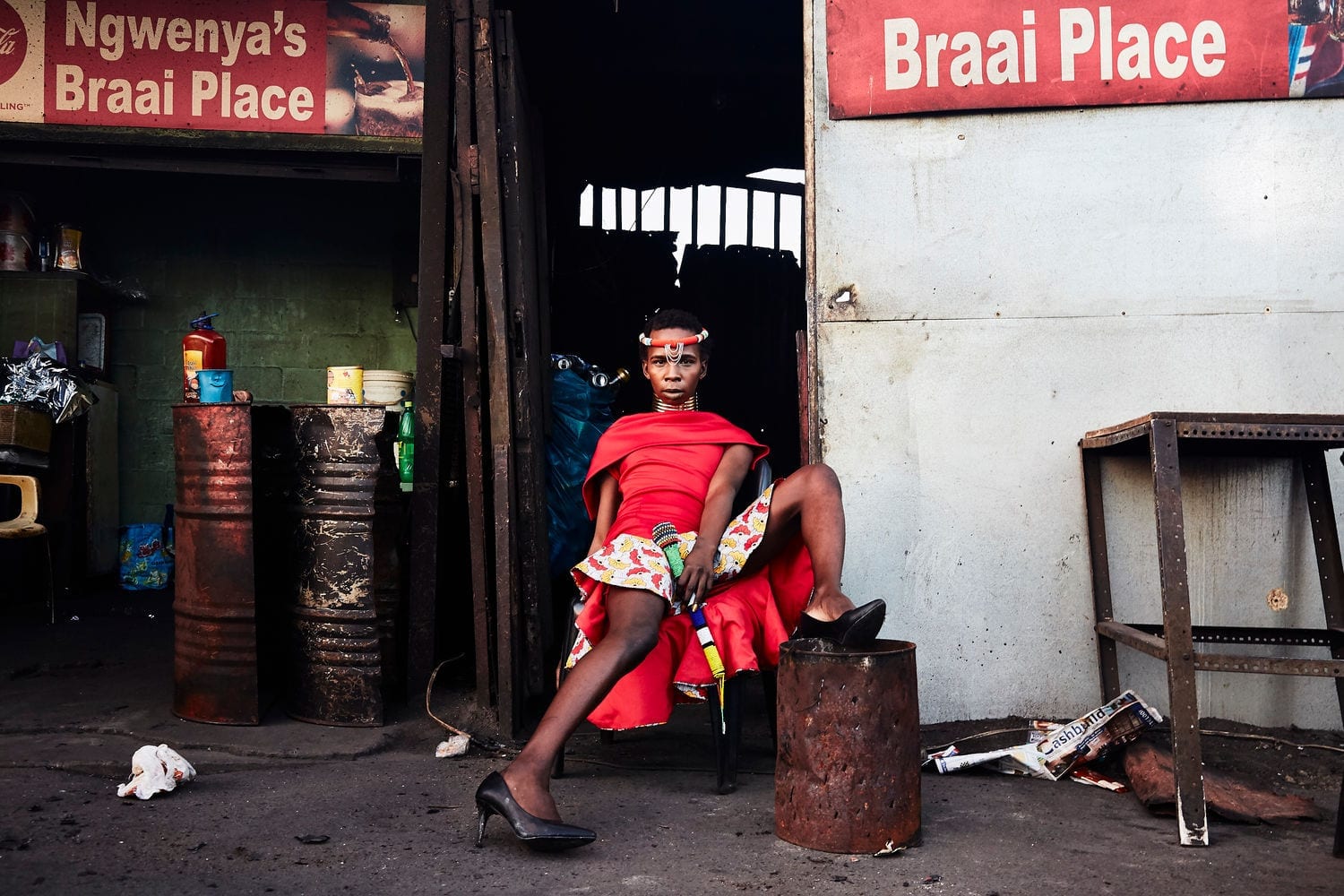 Mandisi Dolle Phika, a gender non-conforming person from Paarl, poses in a section of the tshisanyama in Khayelitsha.
"I have faced homophobia since Primary School. The word 'mofffie' was often used to humiliate and break me. It is this derogatory term that was used as a weapon to shut me out."
"I started referring to myself as a 'moffie' so that the word would not hurt me. I used the word to empower myself. Whenever I was referred to as a 'moffie', I would not be hurt. The word lost its power to dismantle and demean me." Aug. 4, 2019.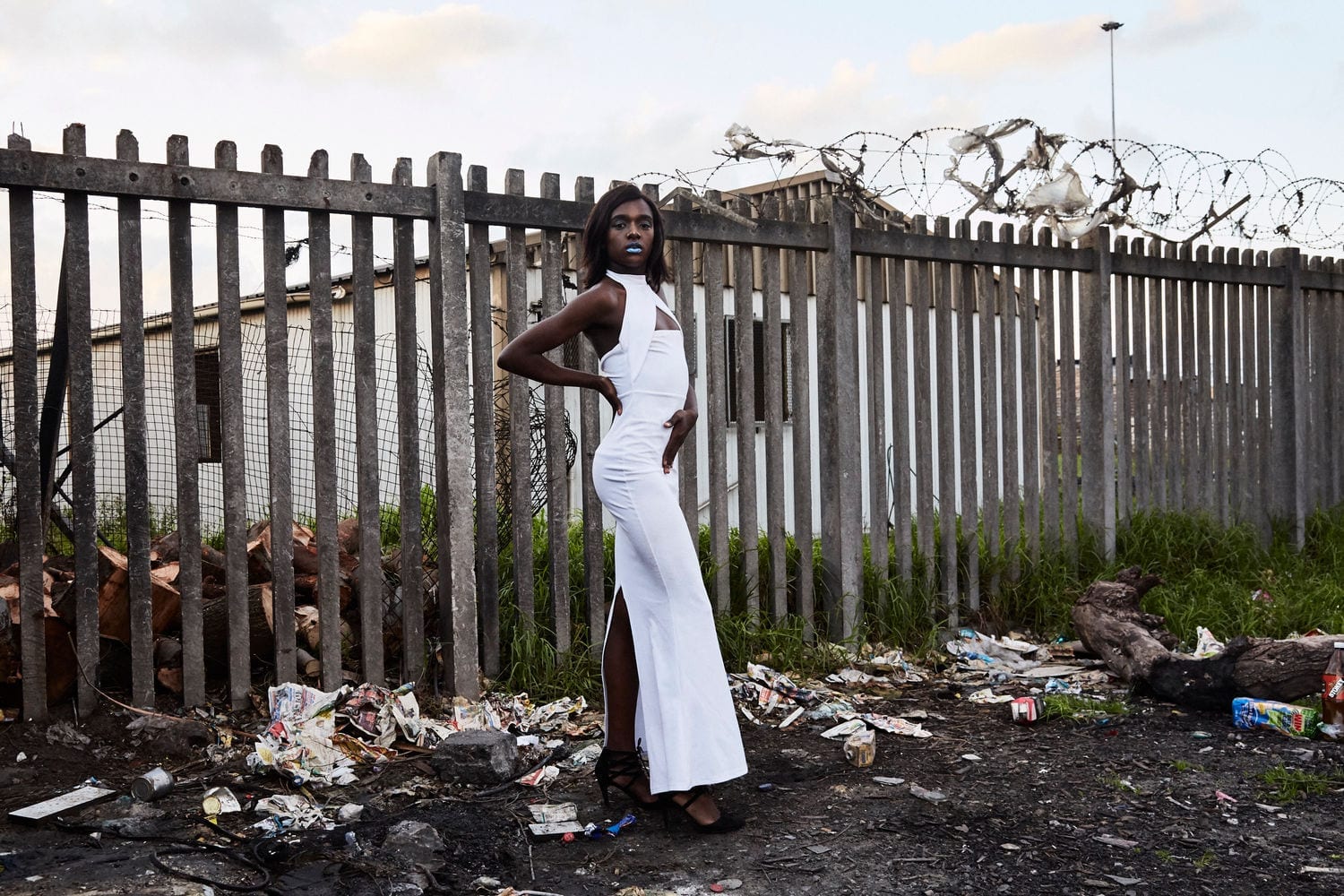 Liyana Arianna Madikizela, who graduated from high school last year, is a drag artist from Kayamandi, a township outside the university town of Stellenbosch. Madikizela wanted her portrait to challenge traditional gender roles.
"I have decided to be myself. I am a gender non-conforming person and I want to be a role model to the future generations of queers to come. I want to become the role model I never saw in the streets of Kayamandi. Living in a township has taught me to be strong and strive. I have dealt with the stigma and hate, and now am stronger. " Aug. 4, 2019.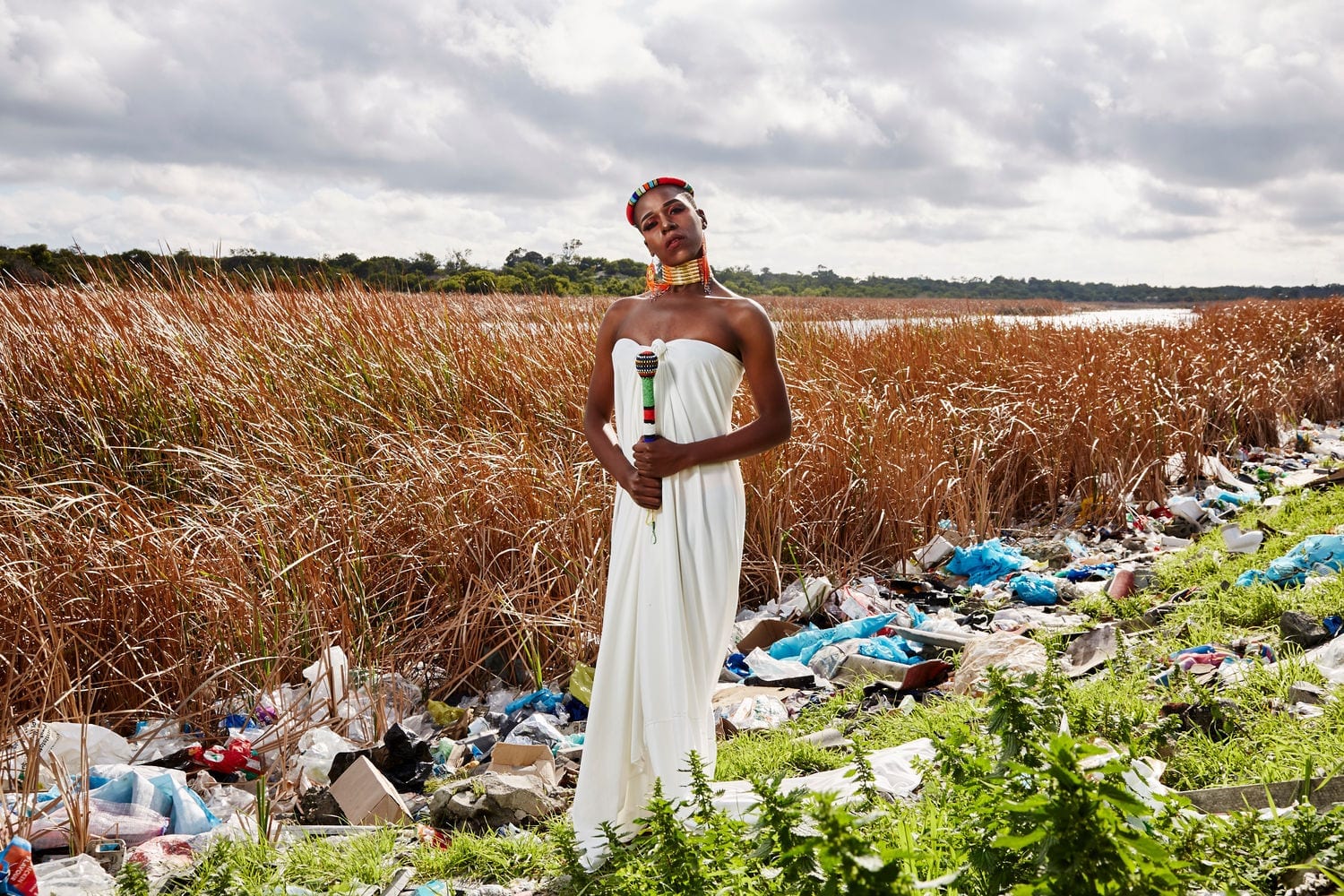 Belinda Qaqamba Kafassie, 24, a post-graduate student in education at the University of Stellenbosch, wears a dress that resembles the white blankets worn by Xhosa males during the traditional ceremony ulwaluko (for male circumcision).
The multi-coloured beaded stick and headpiece are both made by hand and worn by Xhosa brides during traditional wedding ceremonies. Aug. 4, 2019.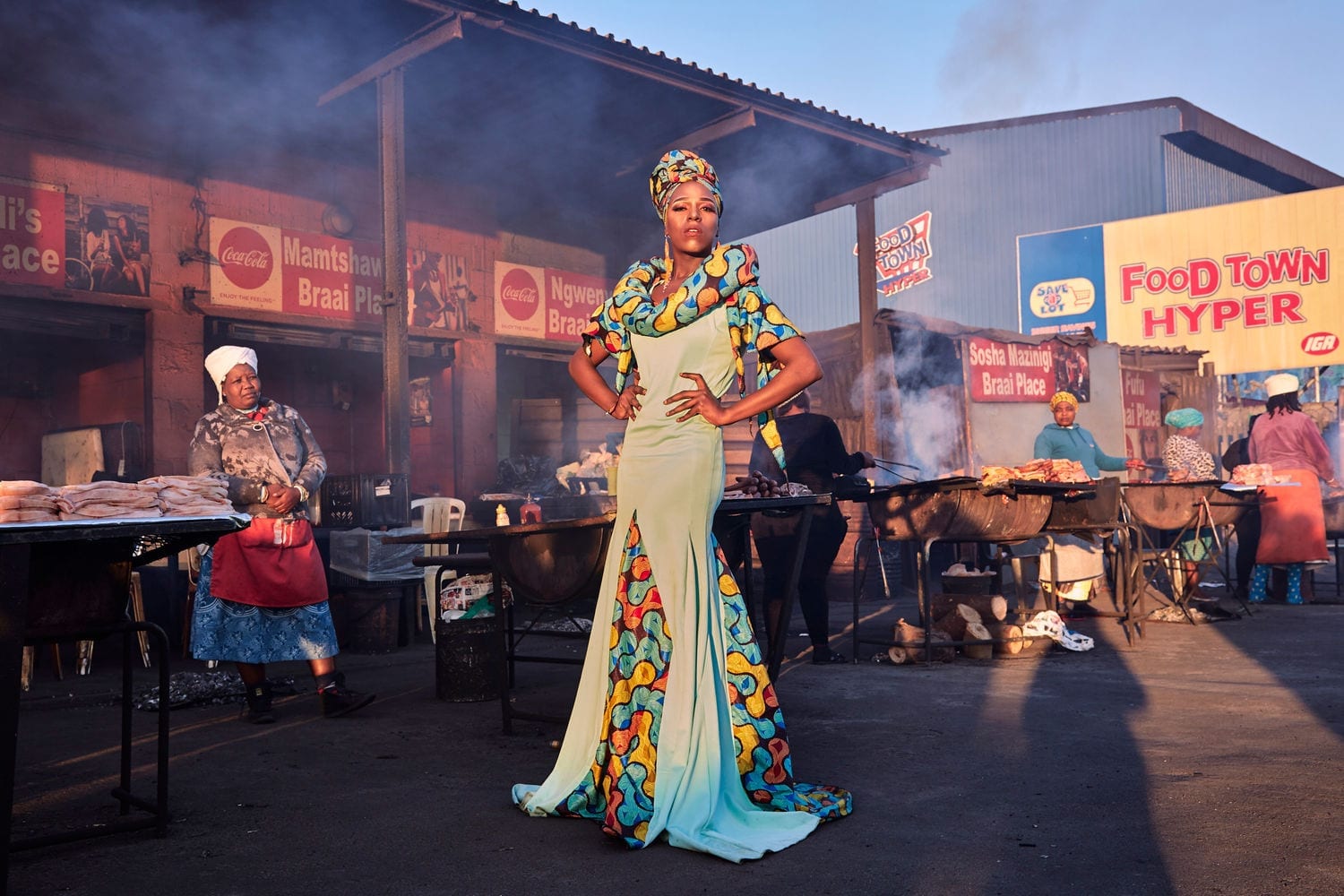 Belinda Qaqamba Kafassie, a drag artist and activist, from Elands Bay poses at the tshisanyama in Khayelitsha, a community space where women cook and sell meat. Kafassie started drag as an escape from the oppression they felt at Stellenbosch University for being "black, Xhosa, poor, queer and effeminate."
Instead of conforming to the westernized standards of drag, Kafassie uses their unique style of drag to elevate and celebrate African drag as an art that tells stories about Africans in Africa, the African way. Aug. 4, 2019.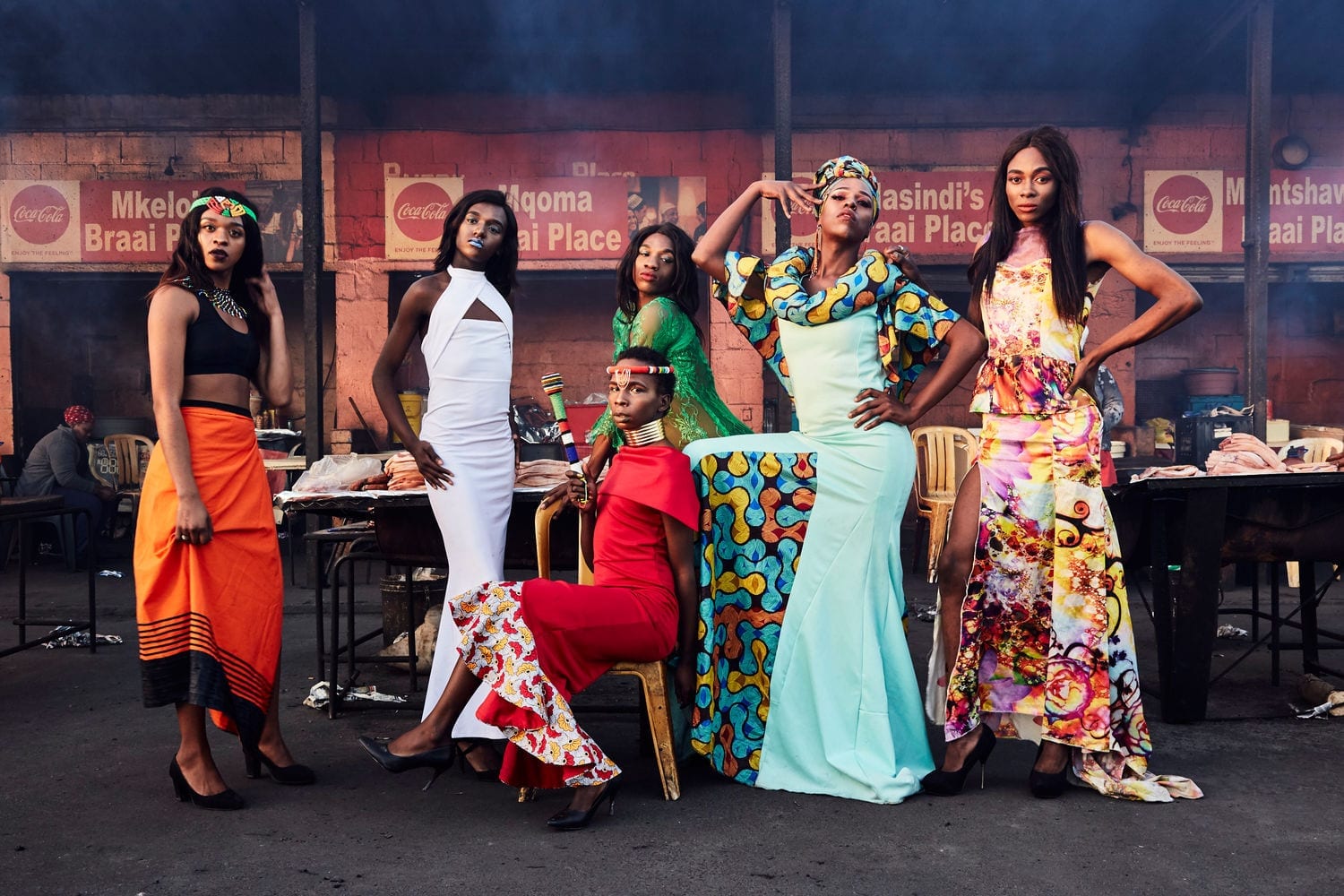 The team from the #blackdragmagic collective pose at the shisanyama in Khayelitsha. In the background, women are preparing and cooking meat for customers who visit the communal space. The group explains:
"Being in a township space where the most queerphobic and transphobic violence occurs becomes an act of reclaiming the space where we navigate our lives. If we don't reclaim these spaces, it's like we don't exist." Aug. 4, 2019.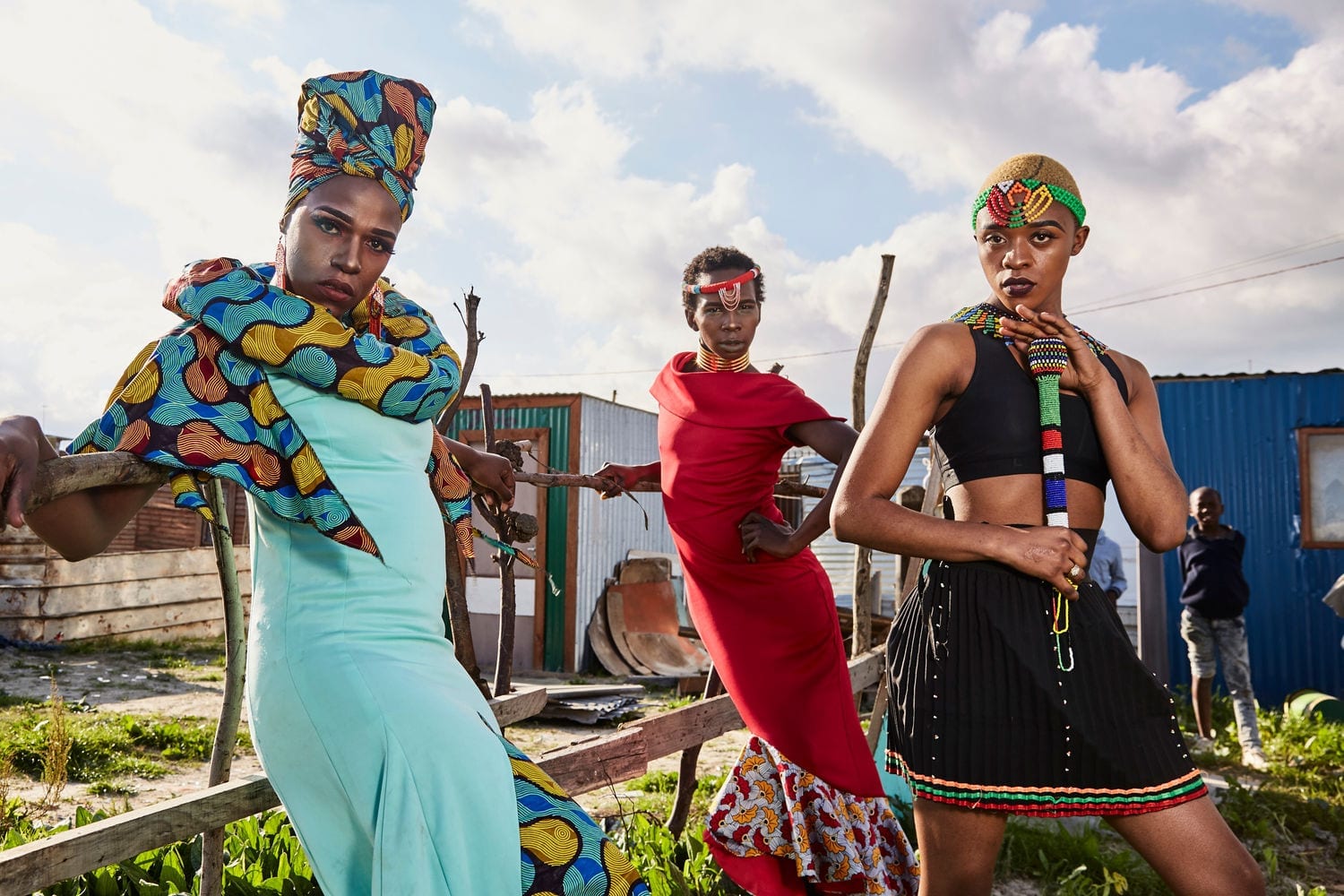 Belinda Qaqamba Kafassie (left), Mandisi Dolle Phika (middle), and Mthulic Vee Vuma (right) are pictured here in the township of Khayelitsha dressed in traditional female Xhosa garments in an act to frame their identity with their culture.
"We can't separate our queerness from our Xhosa heritage and therefore we use it to enforce our identity" the group explains. Aug. 4, 2019.
The series #BlackDragMagic by Lee-Ann Olwage, tells the stories of Black queer, gender non-conforming and transgender people living in the townships of Cape Town. Life is challenging for this group as they are exposed to daily harassment, violence and discrimination. With this photographic project, Olwage wanted to highlight and show the strength and richness of this group in a positive way. The series deals with migration, culture, gender, and sexual identity. All of the participants in the project were invited to decide how they wanted to show themselves in the images.
With this series, Olwage also wants to help the African LGBTQ+ community realise the importance of expressing themselves, regardless of their background, and reclaiming public space in a community where they are all too often considered third-class people. For the participants, creating the photo series was a radical and progressive act of resistance.
About the Photographer
Lee-Ann Olwage is a visual storyteller and photographic artist from South Africa. Her work revolves around identity, collaboration and celebration. She is interested in using the medium of photography as a way of celebration and co-creation. Through her long-term collaborative projects, Olwage aims to create a space where the people she works with can take an active role in the co-creation of images, so that they feel they can tell their own stories in a way that is affirming and celebratory.