I Don't Want To Be Gay In This Ukraine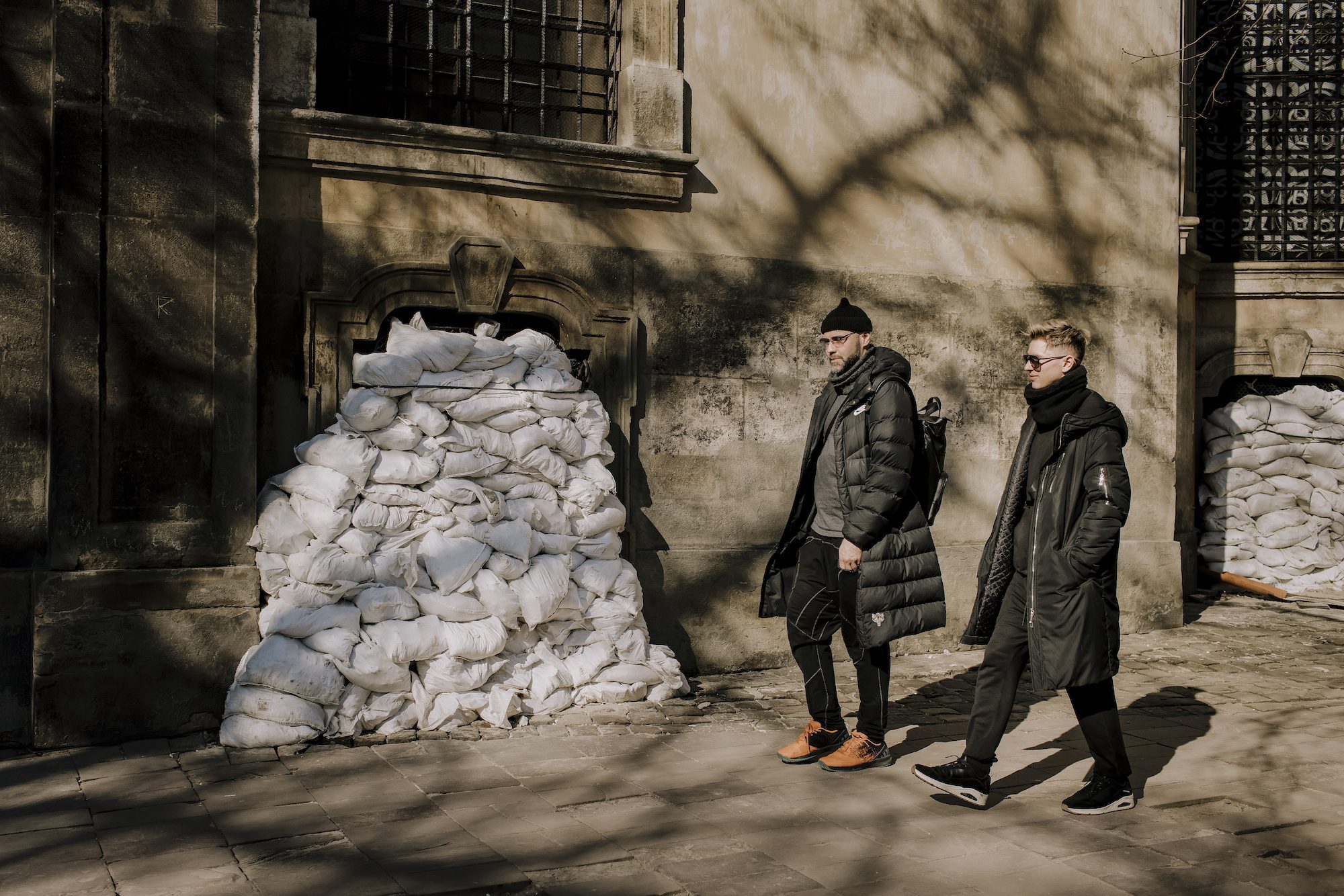 Timyr Tolchin (31, r) & Maksym Pustovoit (41, l) walk past a church with sandbags as protection in Lviv. They left Kyiv after they saw destruction happening around them. A neighboring house was hit by a rocket and that is when they decided to leave. Maksym: "People in Ukraine are racist toward people from the LGBTQi community and even kill them, there is a big inequality and discrimination towards the LGBTQi.
We are not openly gay, or holding hands in the streets. If we would do that, people would comment constantly on us." Maksym: "If you work in the make-up industry like me, or for instance in the fashion industry in Ukraine as a man they assume that you are automatically gay. People are so afraid of this. Our fear is that if Russia would win the war against Ukraine, that the whole LGBTQi community will not survive."
Vóór de Russische invasie in februari 2022 waren veel LHBTQIA+'ers in Oekraïne hoopvol gestemd over de toekomst van hun land wat betreft hun rechten. In een poging deel uit te maken van de EU beloofde de regering pro-LHBTQIA+ wetgeving in te voeren. Die zou discriminerende juridische problemen verminderen, met name rond familierechten, zoals de erkenning van geregistreerde partnerschappen en huwelijken tussen personen van hetzelfde geslacht. Veel mensen waren optimistisch dat het beleid van het land steeds inclusiever zou worden.
In juni 2022 begon president Zelensky aan te dringen op de legalisering van het homohuwelijk, terwijl hij ook verklaarde dat er geen actie kon worden ondernomen zolang de Russisch-Oekraïense oorlog voortduurt, omdat de grondwet in oorlogstijd niet kan worden gewijzigd.
Over de fotograaf
Ilvy Njiokiktjien is een onafhankelijke fotograaf en multimedia journalist gevestigd in Nederland, vertegenwoordigd door VII Photo Agency, en is Canon Ambassadeur. Ze heeft in vele delen van de wereld gewerkt, met een focus op Afrika. Als documentair fotograaf verslaat ze actuele zaken en hedendaagse sociale kwesties.
Haar werk is verschenen in onder meer The New York Times, Der Spiegel, NRC Handelsblad, Telegraph Magazine en Stern, en werd in 2012 tentoongesteld bij Visa pour l'Image. Tot haar onderscheidingen behoren een Canon AFJ Award, twee prijzen bij World Press Photo en de eerste prijs in POYi's Issue Reporting Multimedia Story.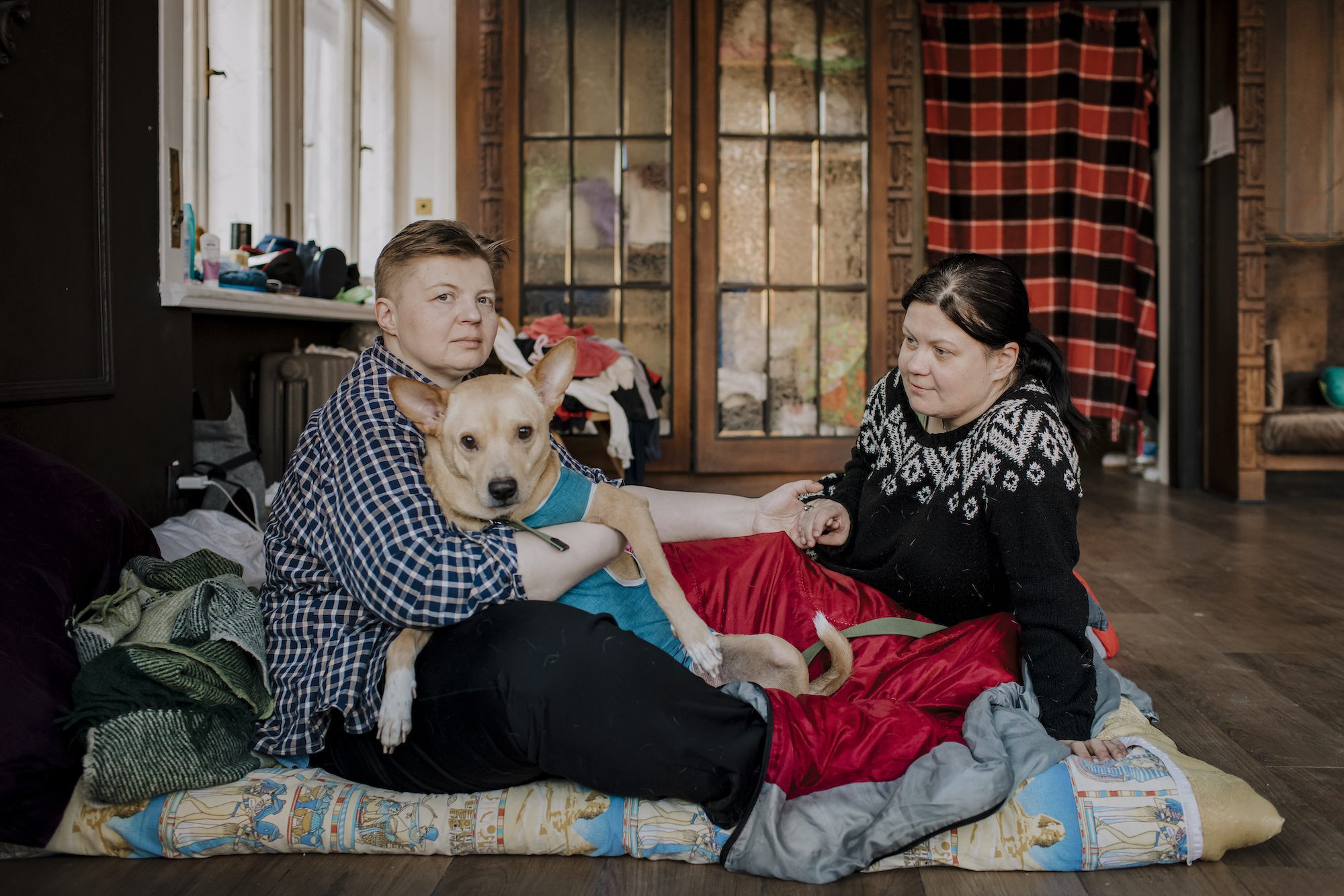 Olesya Shnip (38, she/her, r) is a social worker. She is together with her transgender partner Evgeny Sokolov (46, he/him, l), and he is an artist, woodworker and linguist in Russian language. He is from Russia. Evgeny: "We first met in 2012 through the internet. In 2016 we met each other for the first time in real life. I was living in Russia back then. We even met each other for the first time in Russia. After a couple of meetings, we decided to be together as a couple.
I wanted to move to Ukraine because of political reasons. Russia is just not a free country. We had really high hopes for the future, and also for the future of Ukraine. We felt the country might become part of the European Union, with maybe the possibility for us to get married. We prefer a country where LGBTQi's have more rights, a social country and definitely not a soviet country. For example we would go to Germany, the Netherlands, Sweden or Norway."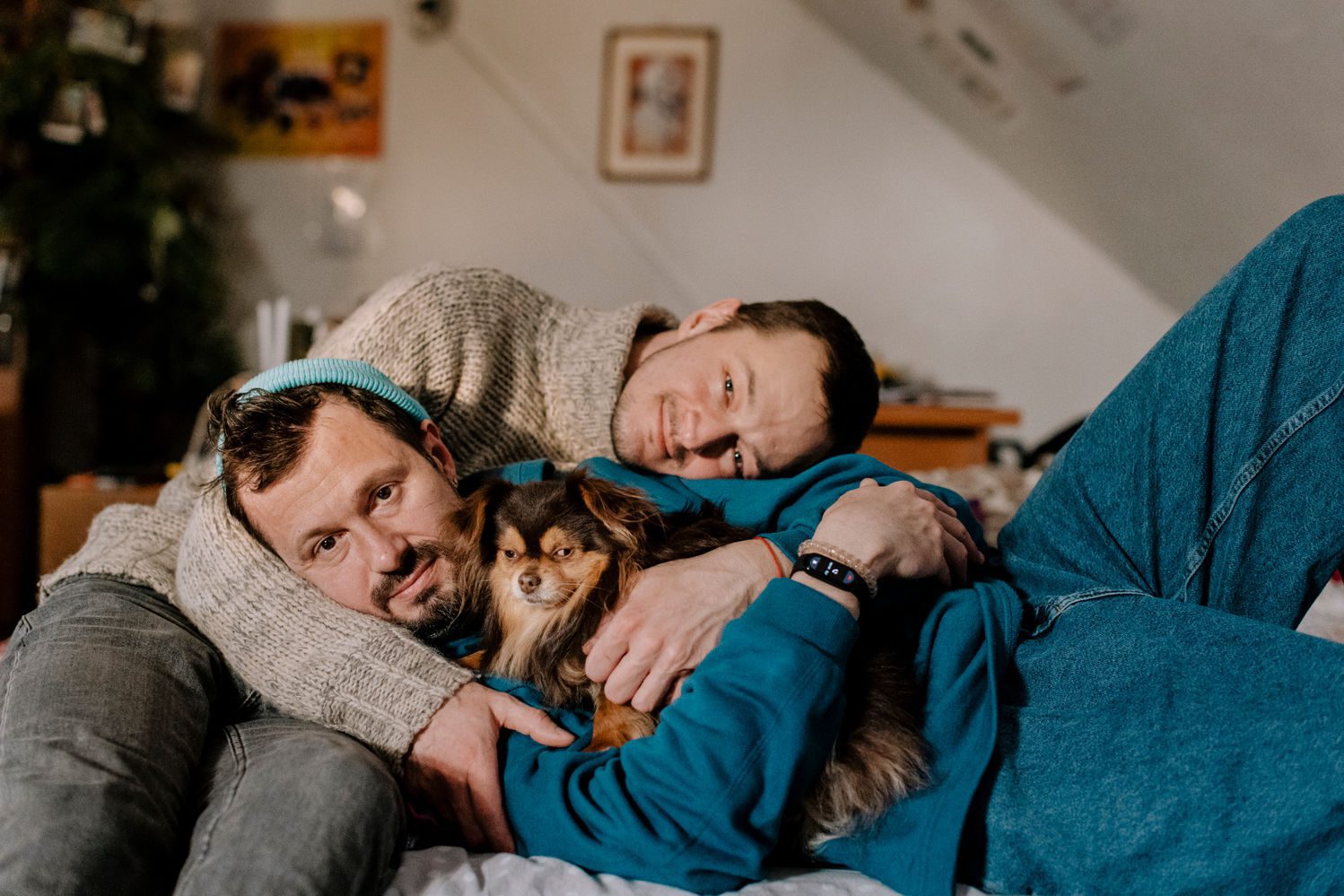 Denys Kratt (48, he/him, blue hoody), works as a marketing director of Czech brewery and he is a drag queen) and Dima (34, he/him, grey shirt), works as a candy maker. They lie on their temporary bed in Stargorod restaurant in Lviv, on the 18th of March, 2022. They have been together for 11 years and they currently stay in the brewery where Denys works, in Lviv. Denys: 'I have never had a normal life. In this country I have lived through a revolution, an occupation, a crisis in the 90s and, as an LGBTQI, we receive a lot of discrimination.
I am so tired. I want to stay alive. Russian bombs destroyed my flat, my parents' apartment. Everything I own, my car — even my two cats — is gone. Eleven years ago, Dima and I met in Kharkiv. For the first part of our relationship, we couldn't see each other at home because we were still living with our parents. We would meet in parks. I never came out to my mother, even though she knows and understands it. Dima's parents don't know he is gay."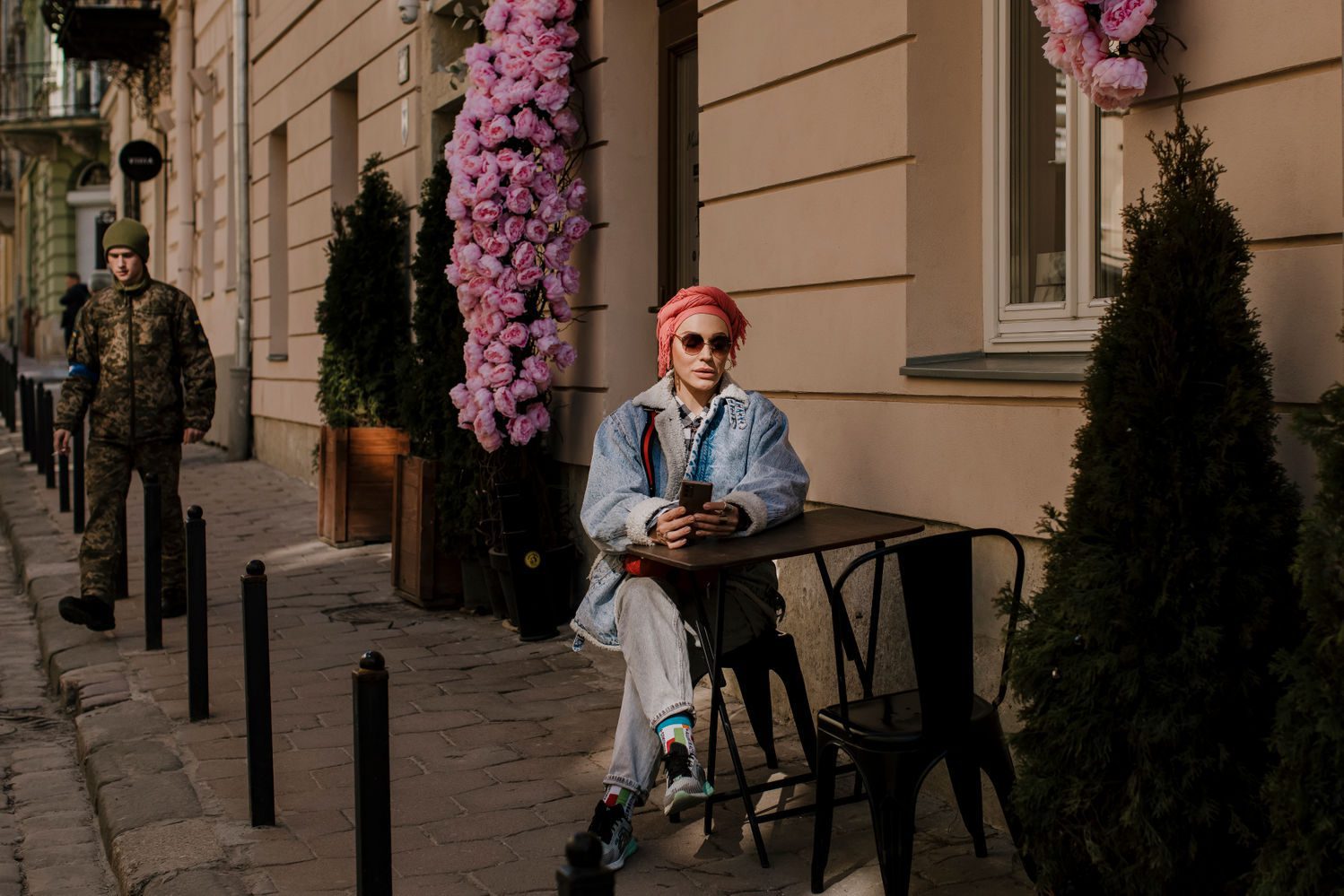 Monro (44, she/her, transgender) sits on a terrace in the centre of Lviv, Ukraine, where a soldier passes her on the street. She left Kyiv, where she lived in an apartment together with her cats. She lives in Kyiv, but moved to Rivne, where it should be safer. For one night she stayed in a LGBTQi-shelter in Lviv. She was just there visiting friends and also wanted to show the current situation in Lviv, through her vlogs on social media. 'I cannot leave the country as a transgender, because I have an 'M' in my passport, stating that I was born a male. But to be honest, I also do not want to leave the country.'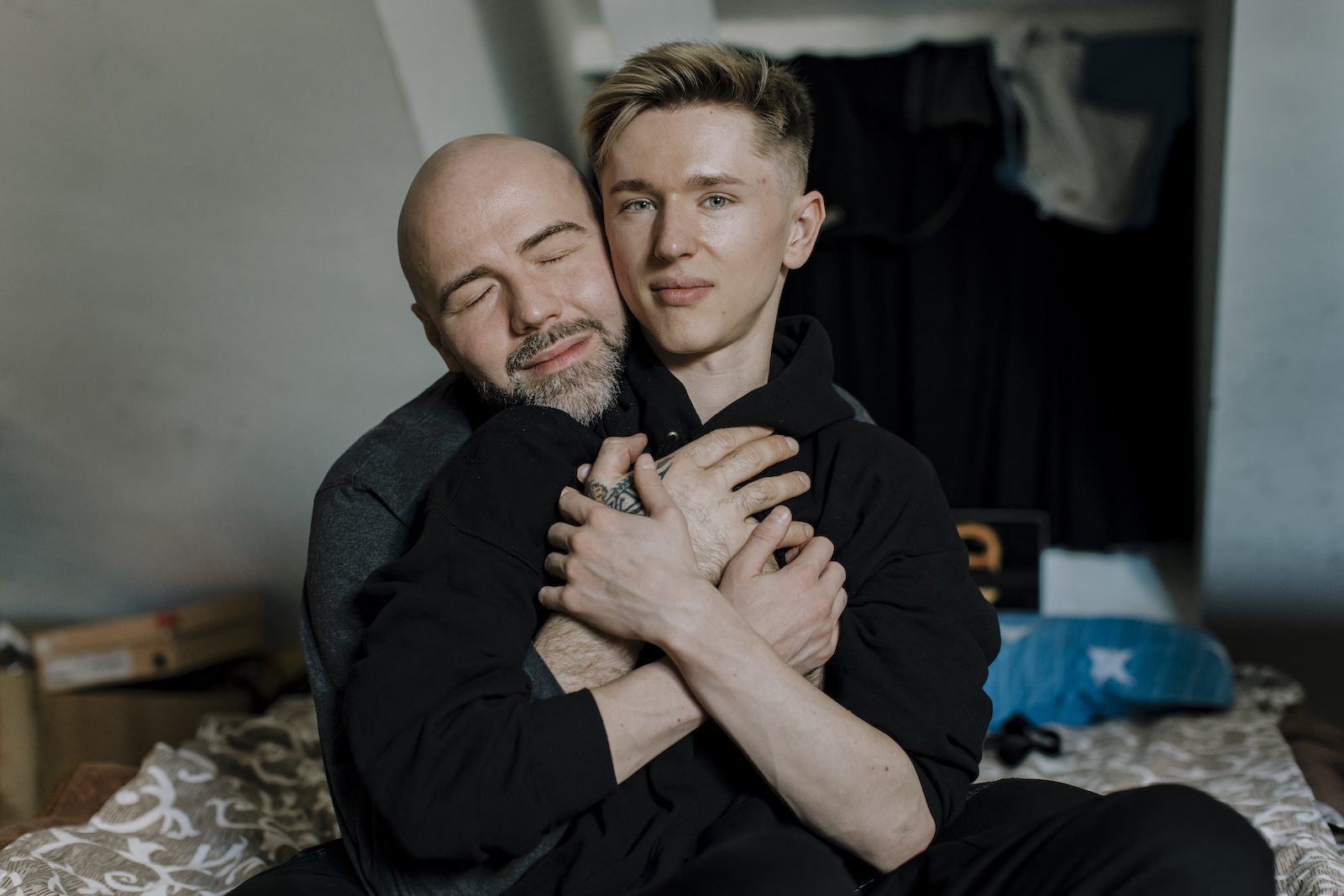 Timyr Tolchin (31, r) & Maksym Pustovoit (41, l) are both from Kyiv. They sit on their temporary bed in Lviv, staying at a restaurant Stargorod, where more people of the LGBTQi community found shelter. They left Kyiv after they saw destruction happening around them. A neighboring house was hit by a rocket and that is when they decided to leave. Maksym: "Our fear is that if Russia would win the war against Ukraine, that the whole LGBTQi community will not survive.
In the occupied territories by Russia, this is all ready happening. I don't want to even imagine what it would be like to live under Russian law. We do have a gay pride, but it is not as free as people think. The part in Kyiv where the pride happens is fully locked up for the rest of the city. Also, there are is a lot of police, to protect us, they are surrounding us. To me that is not the idea of celebrating freedom. We also cannot get married and build a family like gays in Europe."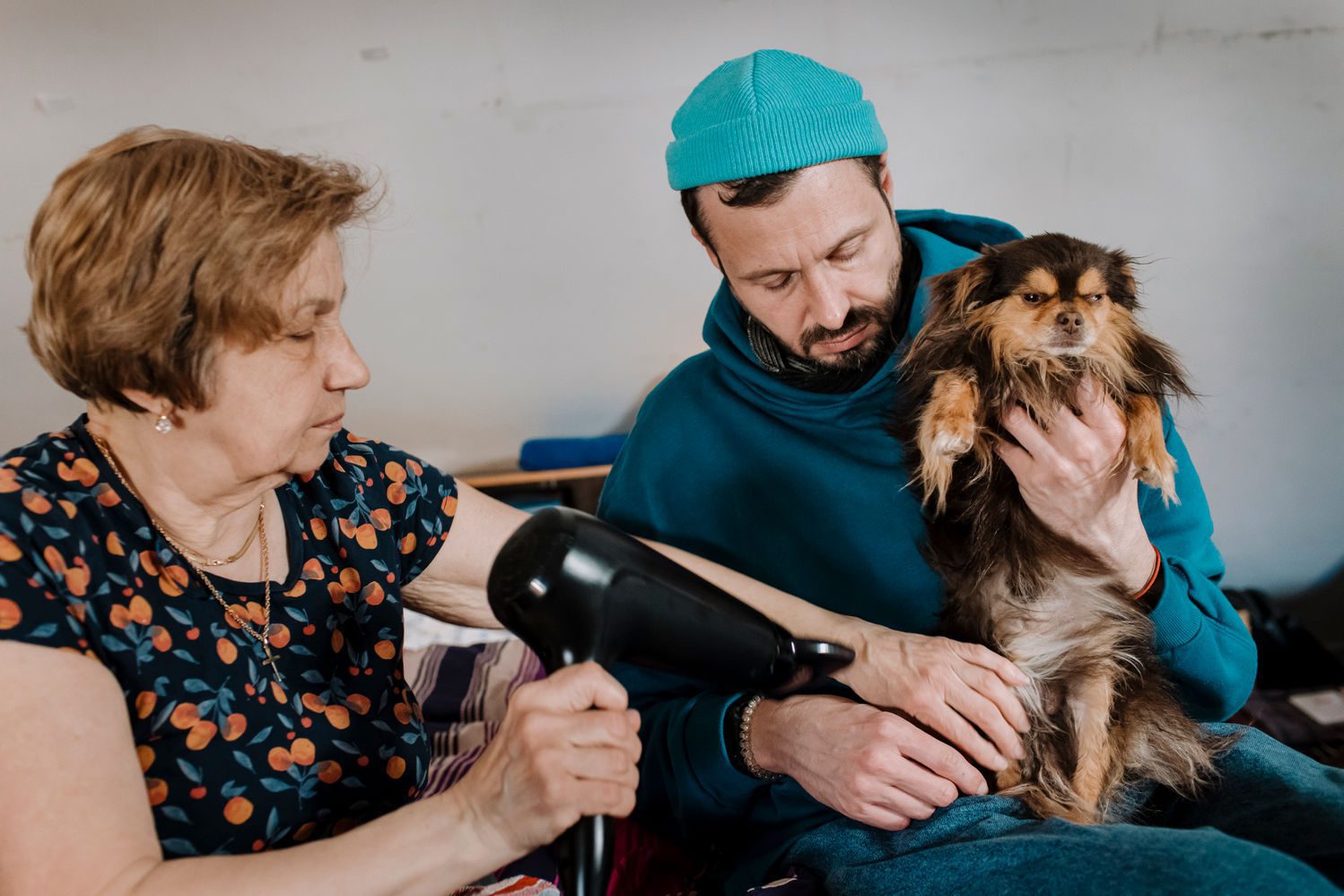 Natalia (left), the mother of Denys Kratt (48, he/him, blue hoody) dries the hair of their dog, because she believes he has to look good for the travel tomorrow to Germany where Natalia will be going to as a refugee. She does not want the Germans to think her family and the dog are not clean. They sit on a temporary bed in Stargorod restaurant in Lviv.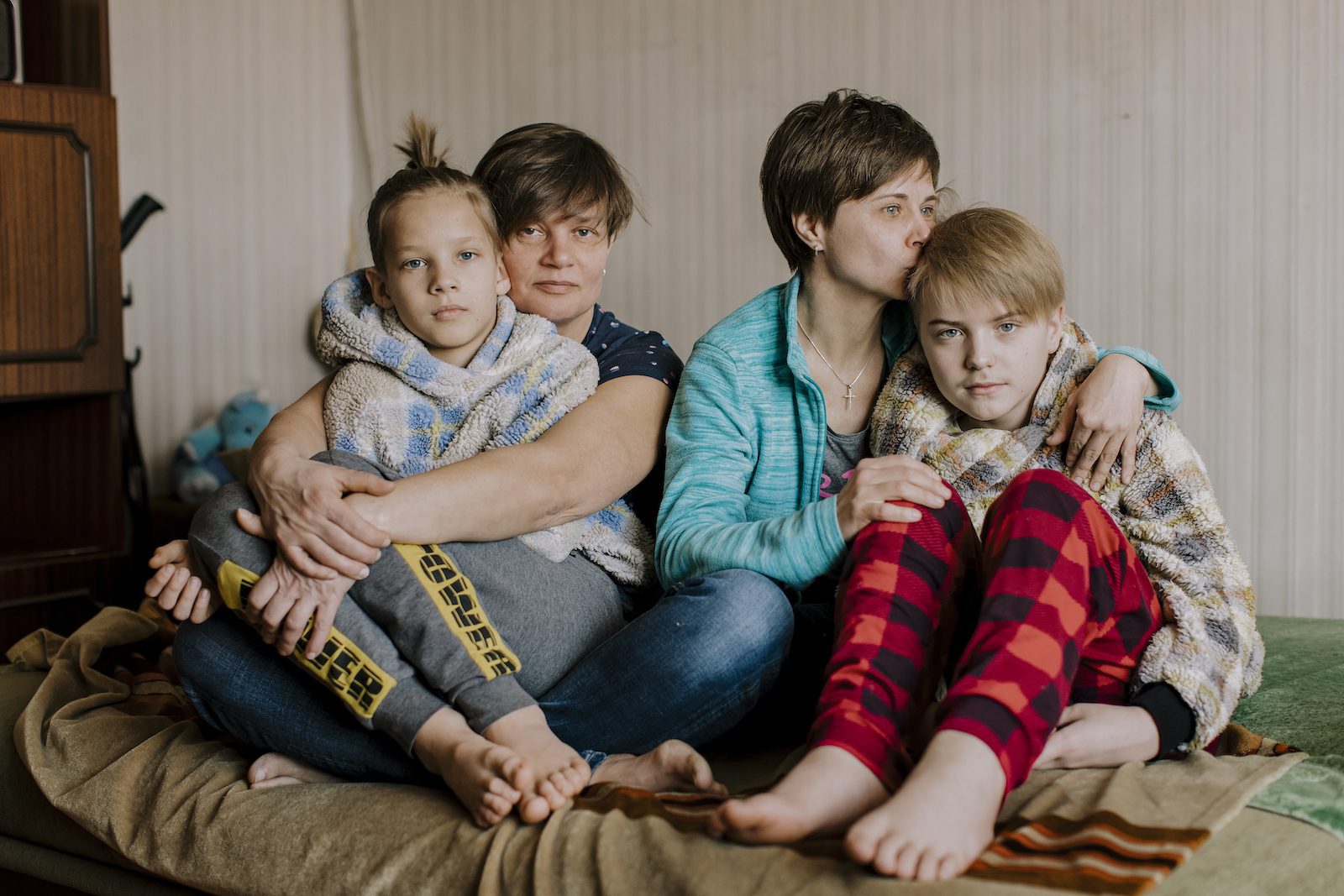 Tamara Khrustalova (43, she/her, blue shirt) and Natalia Kravchenko (46, she/her, dark blue) live together and have two sons, Glib (12, red pants) and Oleksii (11, grey pants). The sons don't know their mothers are a couple. They don't want to tell them, because of the fear they will get bullied in school. They lived in Kyiv but fled to Lviv. When the air raid sirens go off they hide in the hallway. All the windows of the house are taped, so that when shelling or bombing starts, the glass does not fly into the home.
Tamara: Now I am working at a LGBTQi refugee shelter. I clean the shelter, buy groceries or buy medicines. There are several quite specific medicines like different kind of hormones for instance for our trans community. Some of the medicines are donated from different countries like the Netherlands or other countries in Europe. Almost everyday I go to the drugstore to buy these medicines for the people in the shelter.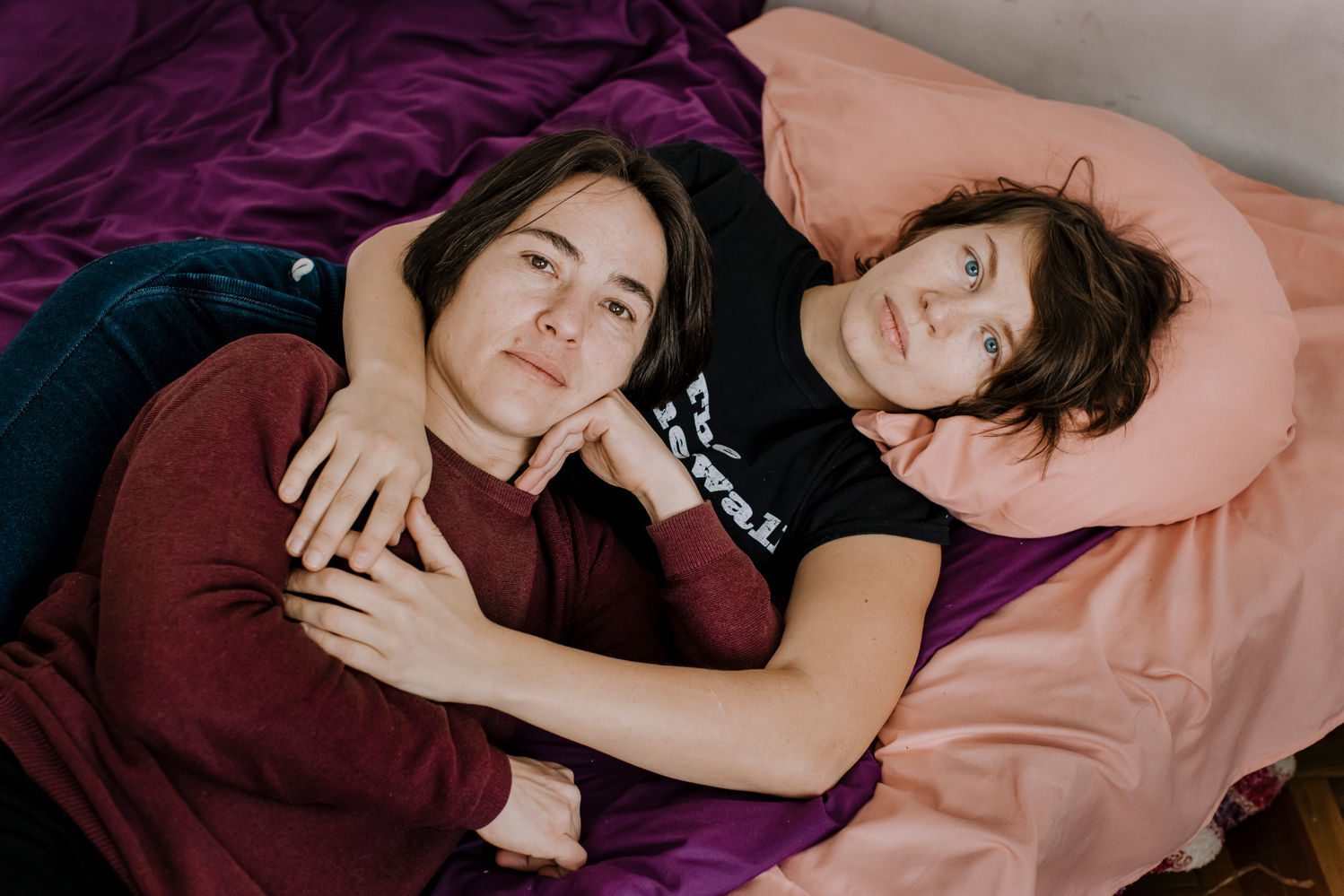 Olena Shevchenko (39, she/her, maroon shirt) and Anastasia Gerasymenko (36, she/her, black shirt) stay in a temporary rental flat in Lviv. They used to live in Kyiv before the war. Both worked LGBTQ-NGOs. Olena: "We have been together for almost 4 years, living together in Kyiv, as a couple. Unfortunately in Ukraine there are no law allowing to have a registered partnership or a marriage. That is what we are fighting for, as organization and as activists.
So for our state, for Ukraine we are still just strangers. It of course makes us very vulnerable in these circumstances when we all now found ourselves in a war." Anastasia: "We established two shelters in Western Ukraine, one in Lviv and one in Chernivtsi. These are safe houses for whose who escape from the war and need support. We provide housing, food, medicines and other needs. We also have psychological support 24/7. Generally we are trying to help people to cross the border and to find temporarily homes in Europe."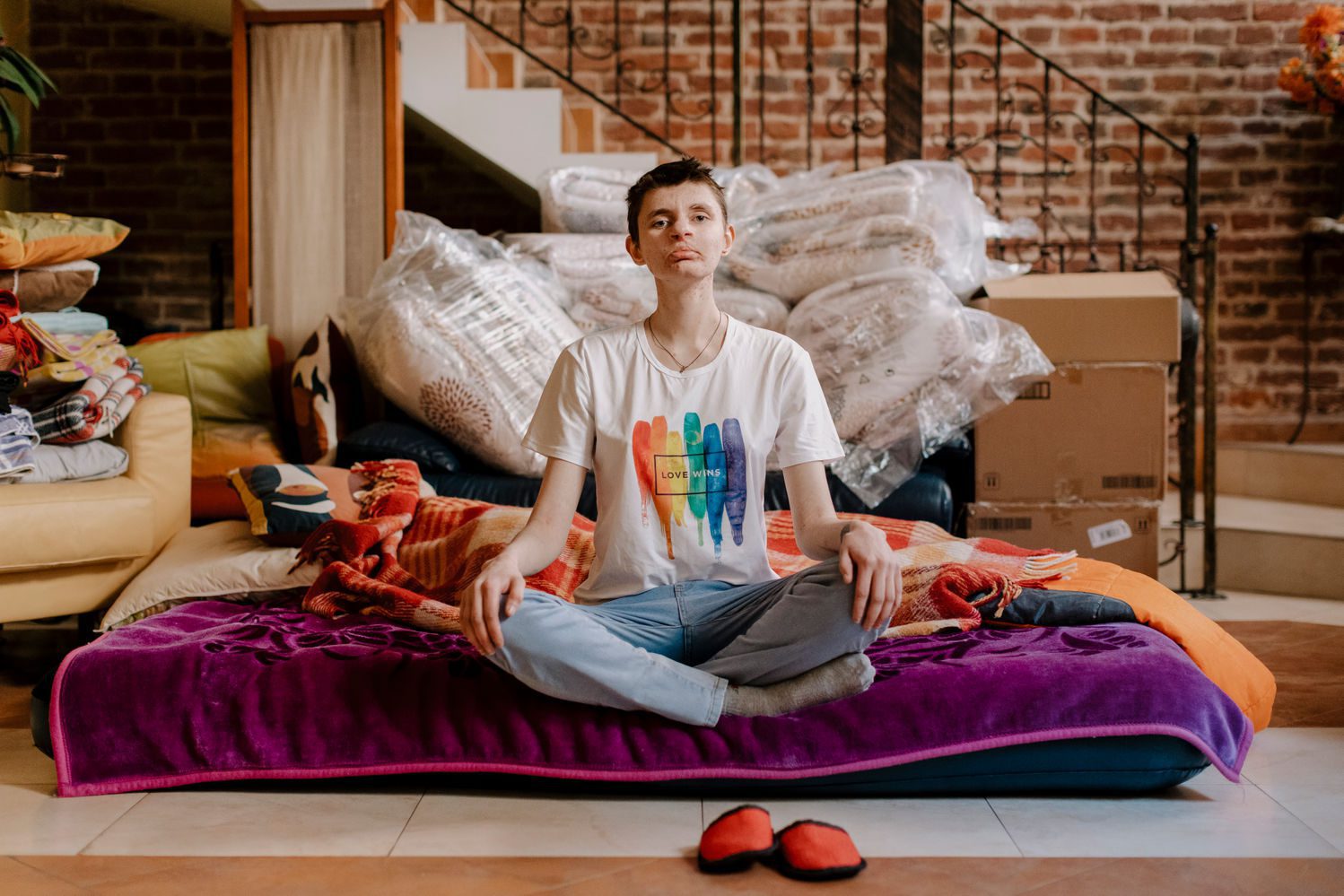 Natalie (18, he/she/they, queer and non-binary) on her way to smoke a cigarette outside of the temporary shelter of LGBTQi-organisation Insight in Lviv, Ukraine. She fled from Derhachi, a small town close to Kharkiv. She has a disability and is currently staying at the LGBTQi-shelter which is set up by Insight, a LGBTQi-organisation. Natalie: "I travelled four days ago by car to Lviv. In three weeks of war I tried to leave my hometown three or four times but I couldn't find someone who could drive me to the railway station in the city.
I describe myself in the LGBTQi-community as queer and non-binary. My pronoun are he/she/they. When I was little I was wondered if I was a boy or a girl, when I was 14 years I felt more like a boy. Looking back to it I think that was a phase, nowadays I don't really define myself as one gender, but as non binary. My mom always says, that I can love whoever I want. My father passed away 5 years ago.He didn't know about my sexual-orientation and gender"
Prior to the Russian invasion in February 2022, many LGBTQIA+ people living in Ukraine were hopeful for the future of their country in terms of their rights. In a bid to become part of the EU, the introduction of pro-LGBTQIA+ legislation was promised by their government. These would reduce discriminatory legal challenges, specifically around family rights, such as the recognition of registered partnerships and same-sex marriages. Many people were optimistic that the country's policies would become increasingly inclusive.
In June 2022, President Zelensky began to push for the legalization of same-sex marriage, while also stating that no action could be taken as long as the Russian-Ukrainian war continues, as the constitution cannot be amended in wartime.
This series shows the personal lives of LGBTQIA+ individuals in Lviv who must deal with the consequences of the Russian invasion. Scan the QR code to see all the photos from this series and read their stories.
About the photographer
Ilvy Njiokiktjien is an independent photographer and multimedia journalist based in the Netherlands, represented by VII Photo Agency and is a Canon Ambassador. She has worked in many parts of the world, with a focus on Africa. As a documentary photographer, she covers current affairs and contemporary social issues.
Her work has appeared in The New York Times, Der Spiegel, NRC Handelsblad, Telegraph Magazine and Stern, among others, and was exhibited at Visa pour l'Image in 2012. Accolades include a Canon AFJ Award, two awards at World Press Photo and first prize in POYi's Issue Reporting Multimedia Story.