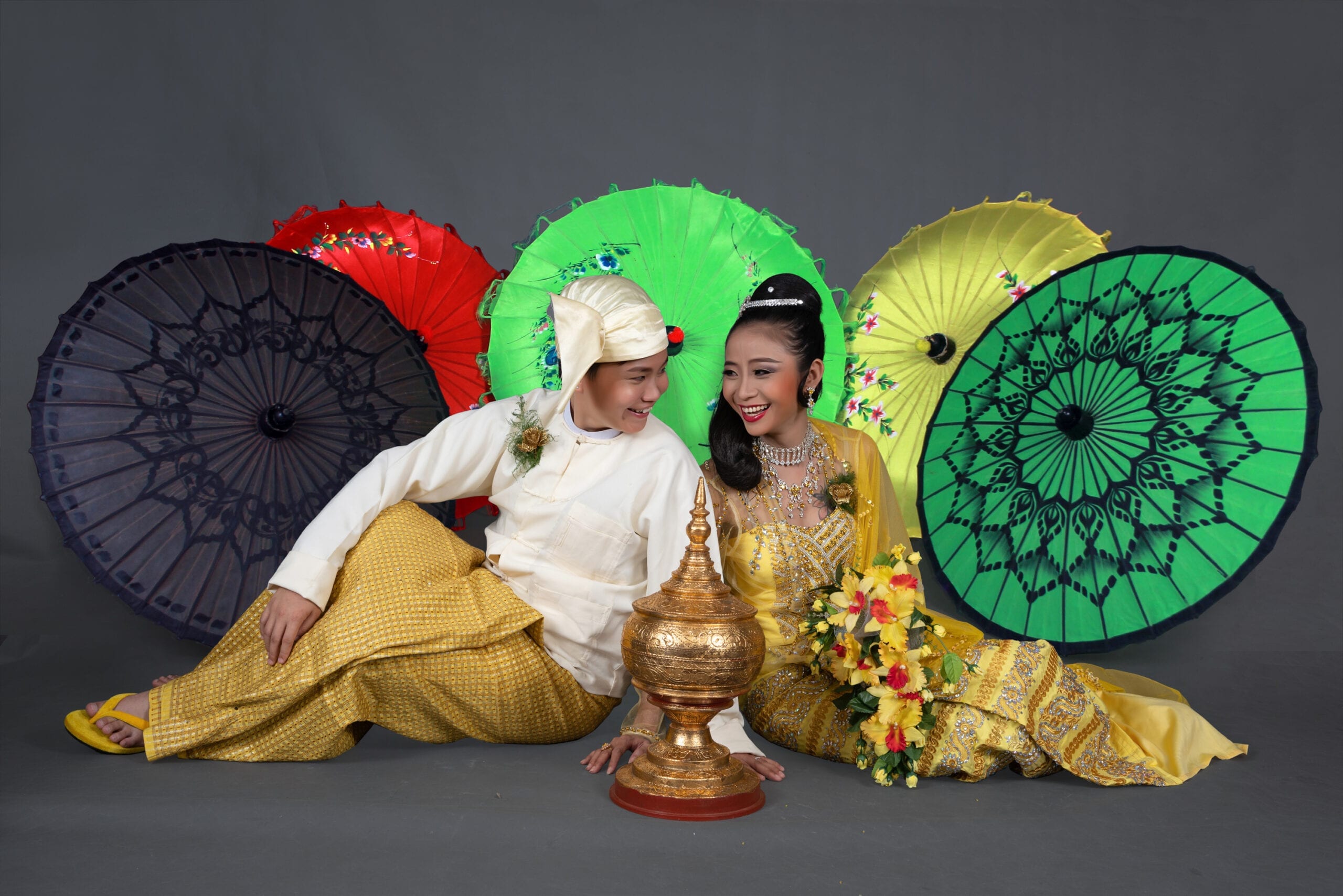 Xiaoli, a 29-year old tomboy and Britney, 33, have been in a relationship for over four years and live together in Yangon with their two puppies. They met at a party and fell in love during Thingyan, Myanmar's New Year Water Festival.
The couple wanted to build their own life without depending on family, so they decided to move toSingapore for a while. At the time, their parents did not accept their relationship because they didn't believe thatLGBT love is real. In order to avoid their parents splitting them up, and to show them that they are really meant for each other, they have faced many financial and work challenges trying to live away from home.When they came back to Myanmar, they noticed that there had been a shift in attitude and that there was a more positive environment for LGBT couples. Their parents have also come around to their relationship and they are finally able to build a peaceful life together. Throughout the years they have been together, they have cried, smiled, laughed, fought, argued and now they believe that their love is so strong it will never be able to be torn apart.
Yangon, Myanmar, January 2019.
Wedding photos play a crucial function in defining gender norms and roles. Through the persistence of social media and the novelty of romance, wedding photos continue to motivate people to aspire for romantic love.50 years on since the Stonewall Uprising that marked the beginning of a series of events and kicked off the modern Pride movement, there are many countries in the world where same sex marriage, and even relationships, are still illegal. One of these is Myanmar.
Section 377 of the Penal Code criminalises "carnal intercourse against the order of nature" and, although rarely enforced, creates an atmosphere of fear and oppression. Along with existing discriminatory laws, social prejudices are further boosted by Buddhist practices and beliefs. In Buddhist thought, life is cyclical. Social position is determined by karma at birth, as accumulated in previous incarnations through actions of the body, tongue and mind. Homosexuality and transsexuality are therefore seen by the majority as a result of sexual transgressions and adultery perpetrated in a past life.
There are however significant changes underway in the former capital Yangon
reflecting the rapid changes in political and legal institutions since the landmark 2010 general election. LGBTQ+ associations and initiatives are growing in number and more people are feeling the confidence to come out.However, complex legal, social and religious realities still pose a serious threat to the acceptance of this community. In this current reality, same sex marriage or civil partnerships are a distant hope, but "Burma Love"dreams of a revolution. In collaboration with a local photo studio, it creates the opportunity of Myanmar traditional wedding photos for non-traditional, non-heteronormative couples. It celebrates diversity, love, LGBTQ+ pride and Burmese culture through a portraiture style that is fading into a rapidly westernising society.
This project has been possible thanks to the support of &PROUD-a Yangon based NGO that organises art and culture events for the LGBTIQ community in Myanmar.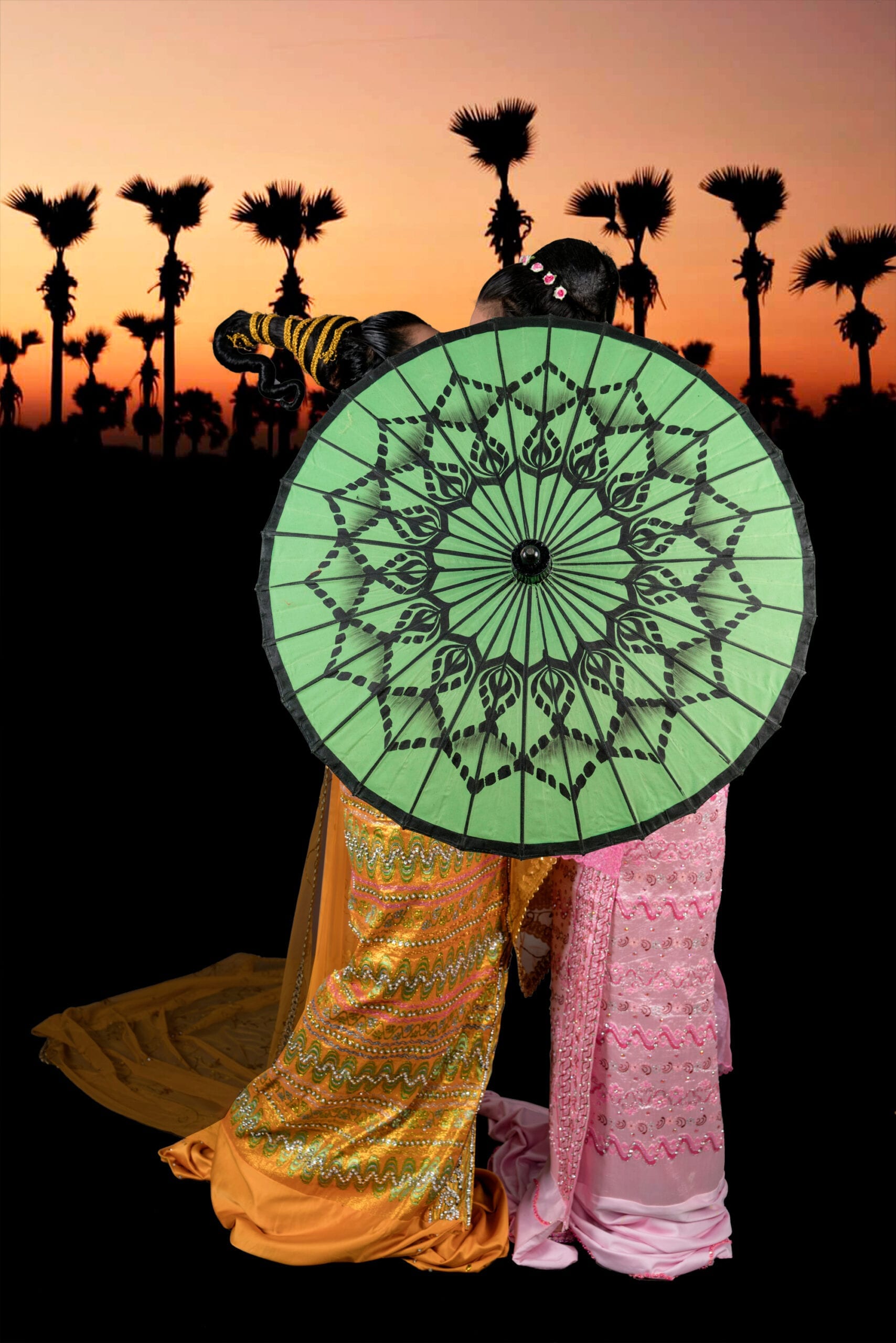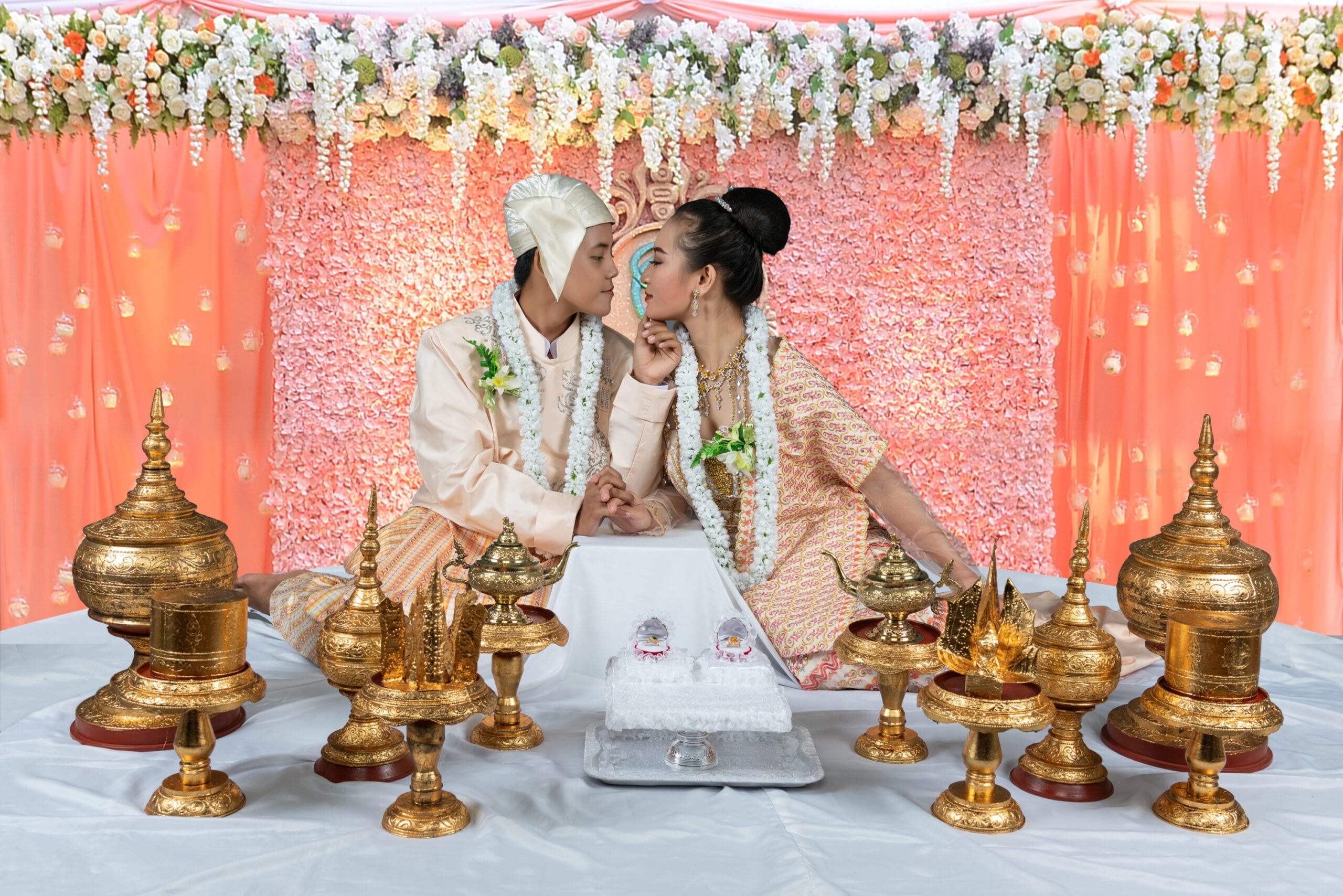 Aung La, a 23-year-old transman, studies at the government technology institute (AGTI) and his girlfriend Thu Thu, 22, works in the hospitality industry. Thu Thu and Aung La have been together for three years. They still live with their families and meet five days a week after Thu Thu finishes work.
Their families do not support their relationship, in particular Thu Thu's mother. The first three months of the relationship was fine until other members of the family started to comment, and this led to Thu Thu's mother changing her opinion and behaviour. Thu Thu then ran away from home for some time.
The couple would like to move abroad and marry in a place where LGBT relationships are more accepted, like Japan, after Aung La finishes university. Aung La is planning to start his transition there once he is a bit older and they can afford it. In Myanmar it is very difficult to find a doctor specialised in gender. They live their relationship secretly from some family and friends, this includes blocking certain people from Facebook.
Yangon, Myanmar, November 2018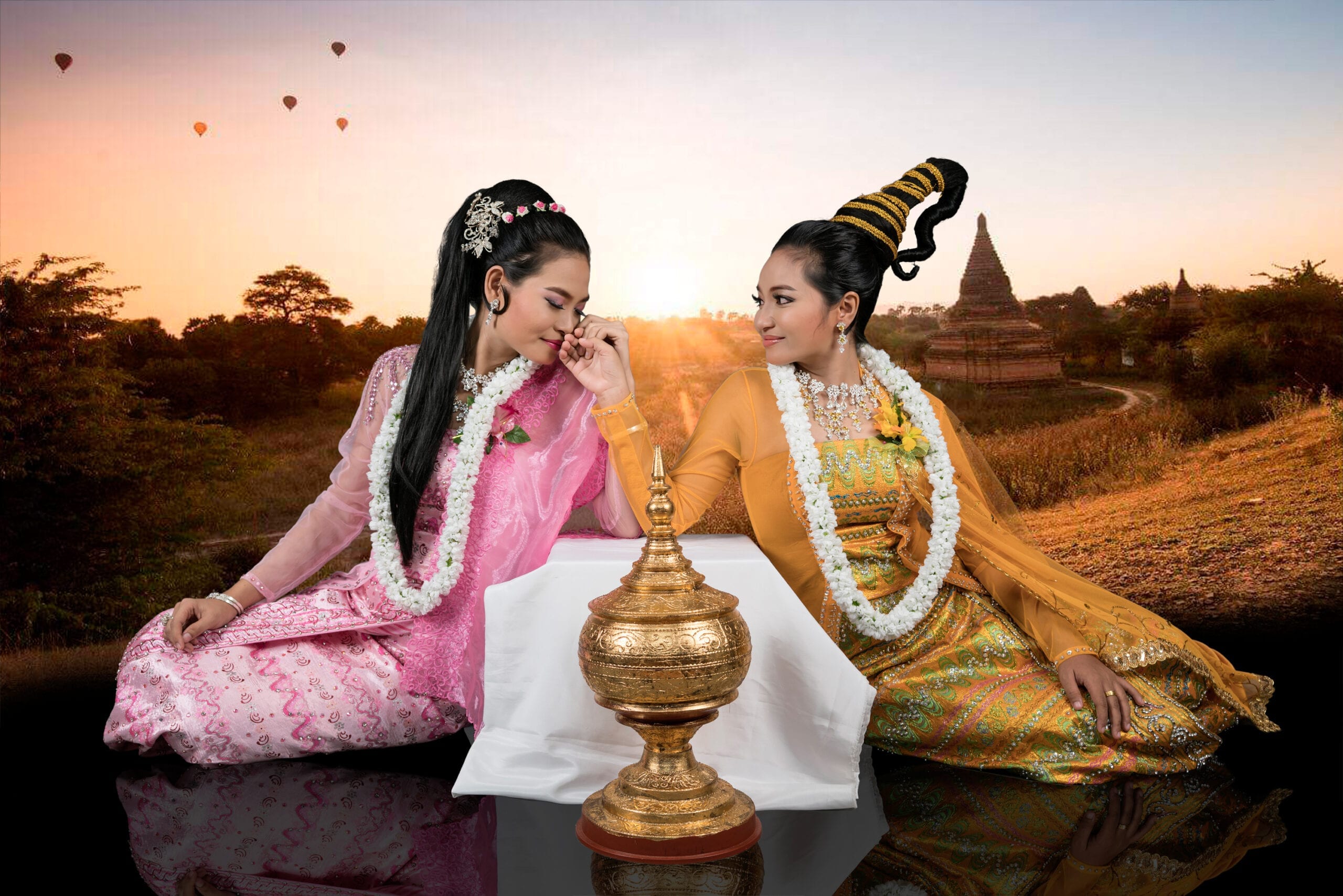 Lesbian life in Myanmar has not been easy for Honey, 29, but she tries not to pay too much attention to judgements about her personal life. Honey fell in love for the first time with a girl twelve years ago. Although it didn't work out, she later found real love when she connected with "Z", and Z was in love with her. After a year they got together and were very happy. However, Z's parents were determined to break up their relationship and attempted to do so various times. It has not been easy. Honey and Z have loved each other for three years of ups and downs but have managed to overcome everything. They are very happy to be together and have become an inspirational couple for other lesbians.
Honey works for the young LGBT+ community. As an activist, she does not feel very safe, so she would like to relocate to another more LGBT friendly Southeast Asian country like Taiwan, that would also allow her to learn from other LGBT movements. Ultimately, she would like to come back to support the young LGBT+ community in Myanmar.
Yangon, Myanmar, May 2018.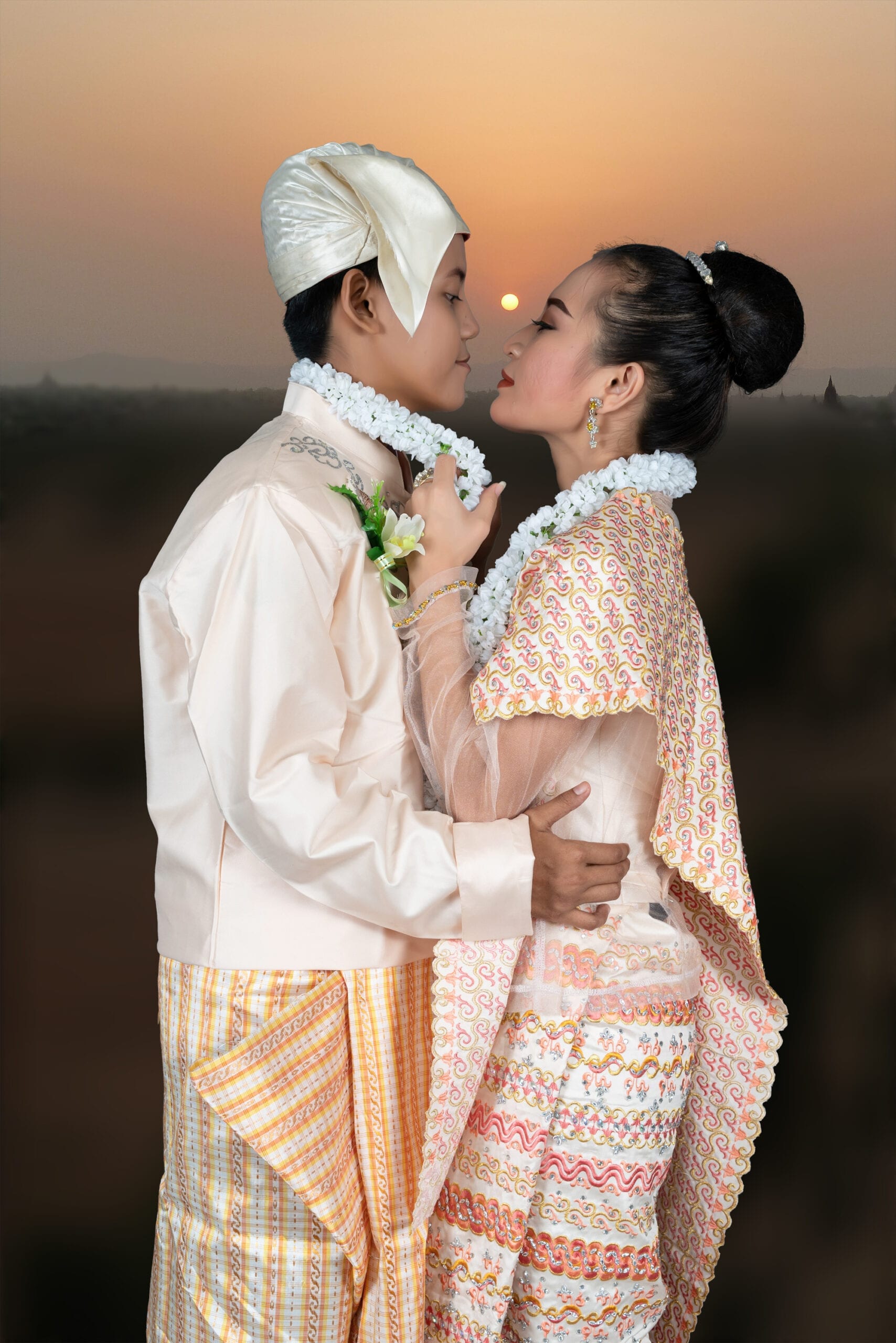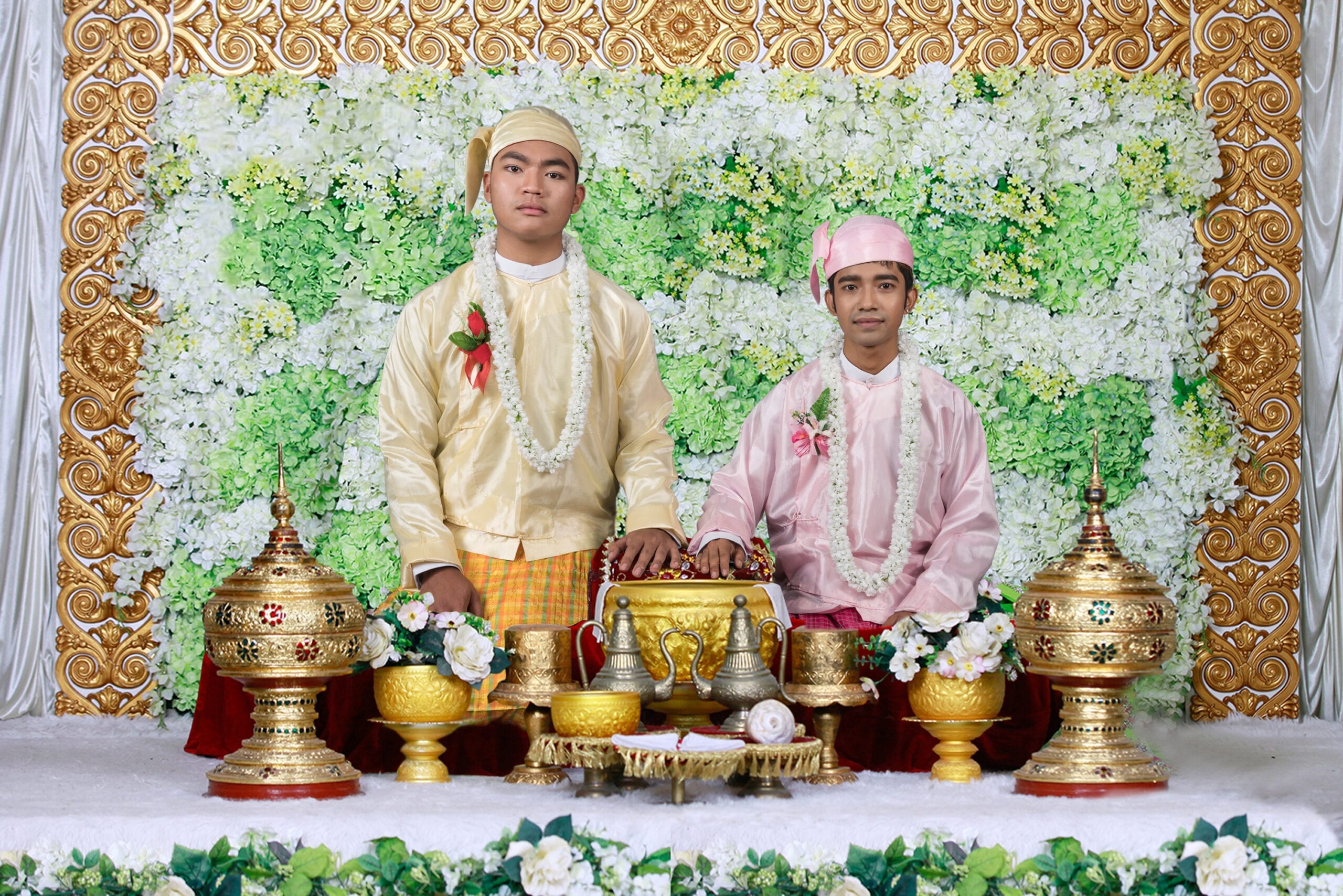 Min Htet Ko, 18, and Kaung Wai Yan Kyaw, 20, met online, as most young couples in the LGBT community. KWYK is out openly while MHK is not and he is worried because his parents don't know he is in a relationship. Both are students and they have been together for one year. They are in love and try to get through their difficulties hand in hand. They mostly hang out with other LGBT+ friends. They are very sociable and take trips with their parents too but are happiest when they are around their friends.They sometimes face discrimination by Myanmar people who are against the LGBT community and dream about moving to Europe where they would be more accepted.
Yangon, Myanmar, June 2018.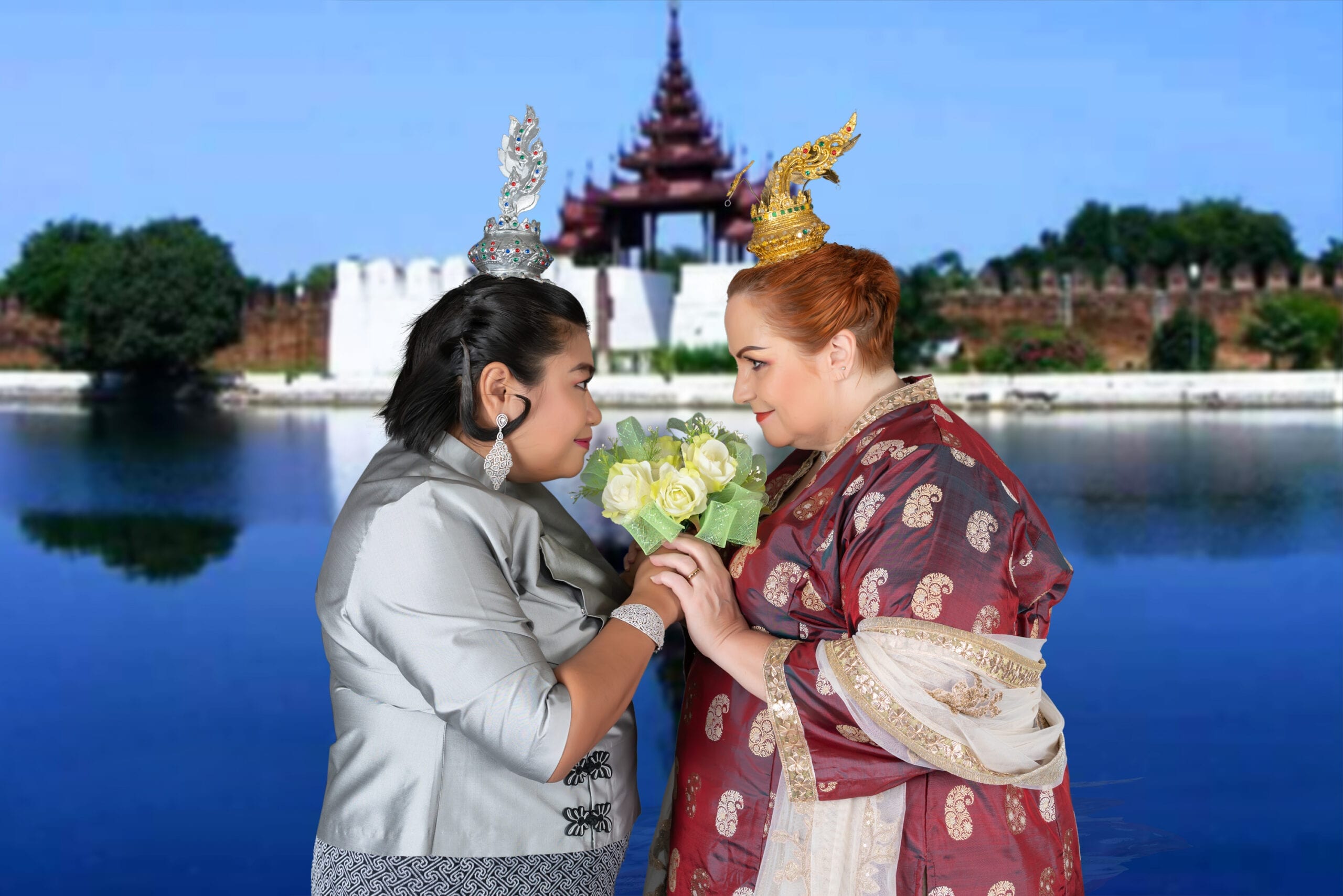 Yu Yu was born to Myanmar career diplomats, to a life that was always supposed to be followed according to rules and protocols. Jeanne was born in New York, and was brought up in Foxborough, MA.30 years later, in 2007, Jeanne had the opportunity to work for an e-card company in Kolkata, India. YuYu was working there very contently as a copywriter. Fate would have it that they met in a meeting, and starting from that day, Yu Yu helped Jeanne settle into Kolkata, helping with whatever her son, her dog, or her cat might need. The animals and child also accepted Yu Yu into their lives. Slowly their relationship grew as colleagues, friends and then as partners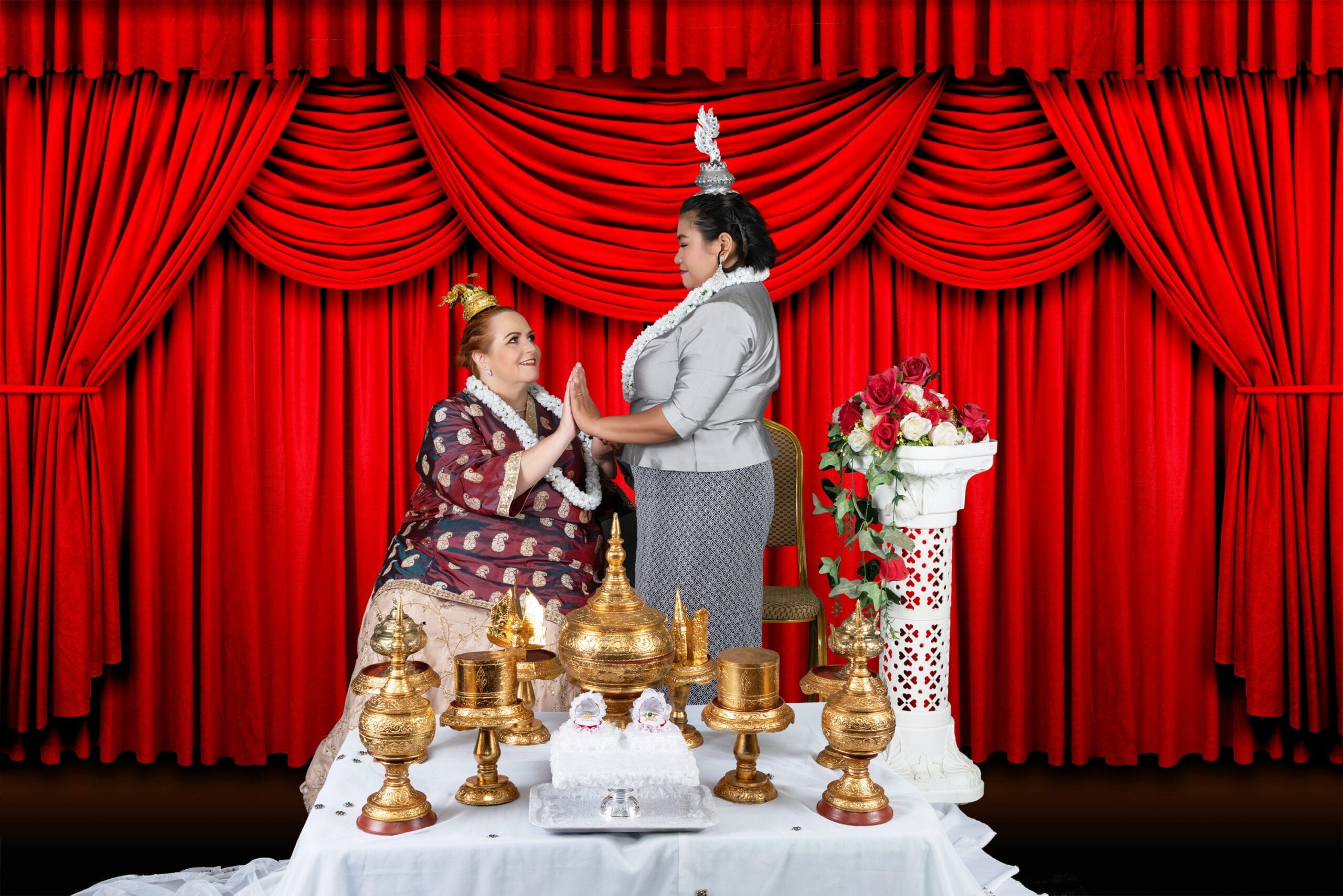 Since then, they have lived in Gurgaon, Delhi, and Yangon and have remained in a committed relationship for eleven years. When Jeanne finally came out to her family, they refused to support""their lifestyle"". Yu Yu hasn't come out to her parents but they have gone together to many family gatherings and weddings. It's a very well-known fact that they live together, and have raised a child, and still have two rescued street dogs from India. They feel strongly that love doesn't require specificity and gender.
Yangon, Myanmar, November 2018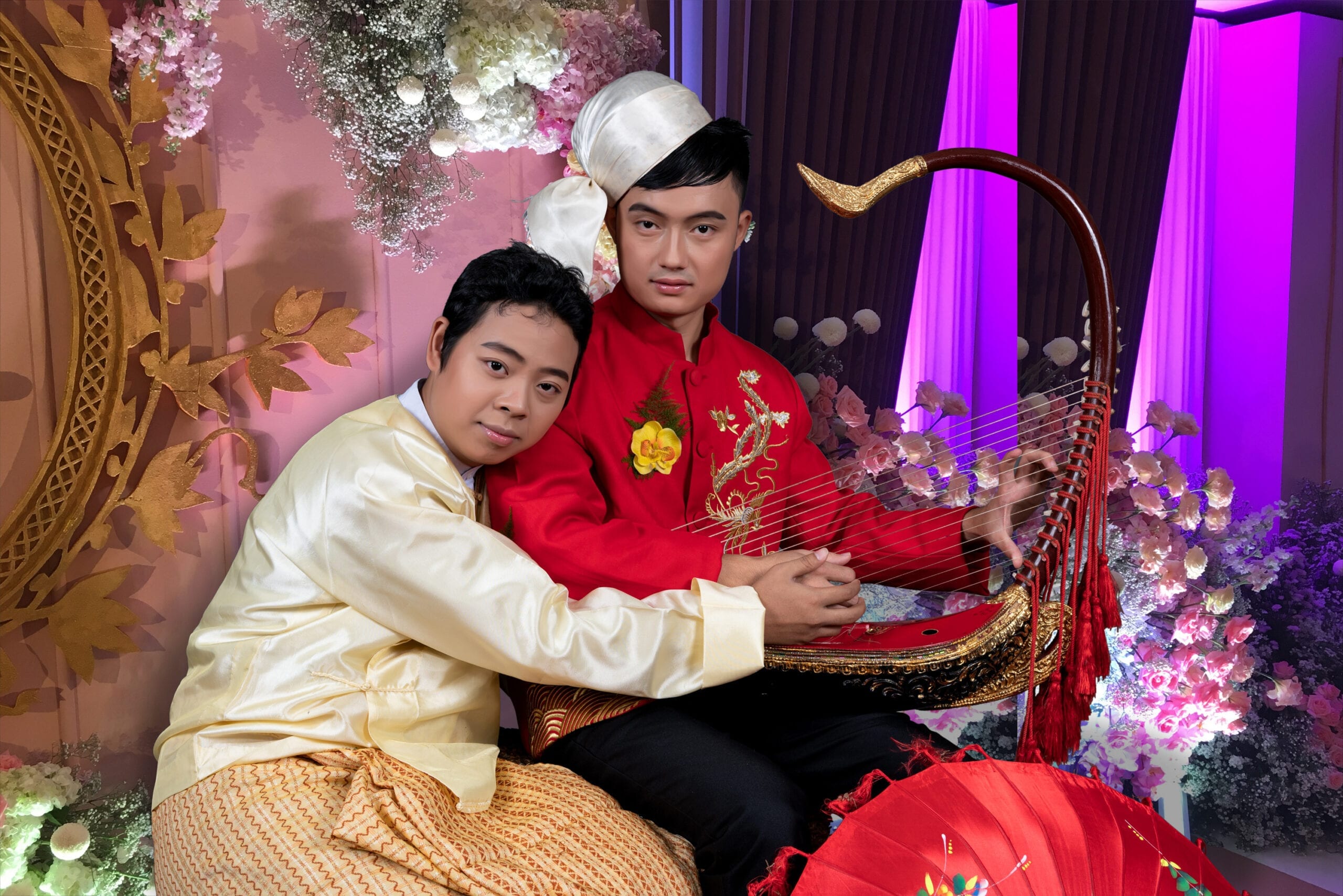 Hein and Moe, both 23, met when they were 14 at boarding school inMandalay. Moe is of Chinese descent. They've been together since they were 15, on and off, but lately more on than off. They are very in love and noticeably completely comfortable in each other's presence. Hein is a film producer in Yangon and Moe is studying medicine in Mandalay.
The start of their relationship was difficult as they were separated from each other just one year later, when the school discovered the relationship and expelled Hein who they decided was the ""culprit"" as he was more feminine.
Despite their long-distance relationship between Mandalay and Yangon they manage to spend as much time as possible together, aided by Hein's family's acceptance of their relationship. "Sometimes I think they love him as a son more than me," Hein giggles. "They even wanted to go to his graduation!"
Yangon, Myanmar, January 2019