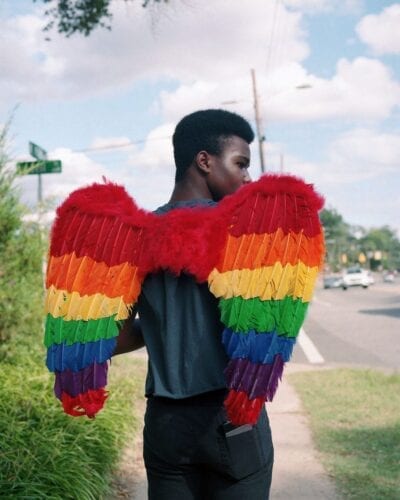 Zwarte strijders voor homorechten
Als het op de strijd voor gelijke rechten aankomt, spelen Zwarte LHBTQ+ gemeenschap vaak een zeer vooraanstaande en doorslaggevende rol. Zo waren de Afro-Amerikaanse drag-koningin en activist Marsha P. Johnson in 1969 een van de initiatiefnemers bij de Stonewall Inn-rellen. Dit waren de protesten in New York tegen de invallen van de politie in bars en nachtclubs die als toevluchtsoord dienden voor de homoseksuele-, lesbische- en transgendergemeenschap in de stad.
Deze rellen vestigde wereldwijde de aandacht op de lesbische en homoseksuele gemeenschap en leidden tot de oprichting van de Gay Rights beweging in de VS, en over de hele wereld. Zwarte LHBTQ+ personen waren ook nauw betrokken bij het ontstaan van diverse burgerrechten bewegingen in de jaren 70, zoals Black Power, en feministische en homobevrijdingsbewegingen.
Het activisme is nog niet verdwenen. In 2013 werd de #BlackLivesMatter-beweging geboren, uit protest tegen het politiegeweld en de vervolging van Zwarte gemeenschappen. De beweging is opgericht door drie Zwarte vrouwen, Alicia Garza, Patrisse Cullors en Opal Tometi, van wie er twee zich als 'gay' identificeren. Dit maakt dat ook deze keer de LHBTQ+ gemeenschap nauw verweven is met de Black Lives Matter organisatie. De oprichters van Black Lives Matter hebben ook altijd het geluid van de LHBTQ+ gemeenschap vertegenwoordigd in hun uitingen.
Waar het om LHBTQ+-rechten gaat, is de LHBTQ+ gemeenschap is de Zwarte gemeenschap veel dank en respect verschuldigd.
Over de foto
In het beeld Black Pride worden de raakvlakken tussen Zwart zijn en homoseksualiteit gevisualiseerd. Kennedi Carter maakte deze foto in haar woonplaats Durham in North Carolina, VS, tijdens een Pride Festival. Toen ze het festival verliet, kwam ze een jongen tegen met regenboogvleugels. Ze vroeg of ze hem mocht portretteren en hij stemde toe. Carter gebruikte een analoge camera met een filmrolletje dat later ontwikkeld moest worden. Helaas raakte ze het filmrolletje een tijdje kwijt. Een paar jaar later vond ze het filmrolletje per ongeluk terug en liet het ontwikkenen. Toen ontdekte ze de foto, Black Pride.
Carter said: 'I just recently found the boy that I photographed after two years of searching and he loves it!"
Black Fighters for Gay Rights
When it comes to the fight for equal rights, the Black LGBTQ+ community often play a very prominent and decisive role. For example, the Afro-American Drag Queen and Activist Marsha P. Johnson was one of the initiators of the Stonewall Inn riots in 1969. These were the protests in New York against police raids on bars and nightclubs that served as havens for the city's gay, lesbian and transgender community.
The riots drew worldwide attention to the lesbian and gay community and led to the creation of the Gay Rights movement in the US, and around the world. Black LGBTQ+ persons were also closely involved in the emergence of various civil rights movements in the 1970s, such as Black Power, and feminist and gay liberation movements.
The activism has not disappeared yet. In 2013, the #BlackLivesMatter movement was born in protest against police brutality and persecution of Black communities. The movement was founded by three Black women, Alicia Garza, Patrisse Cullors and Opal Tometi, two of whom identify as 'gay'. This means that once again the LGBTQ+ community is closely entwined with the Black Lives Matter organisation. The founders of Black Lives Matter have always represented also the voice of the LGBTQ+ community in their manifestations.
When it comes to LGBTQ+ rights, the LGBTQ+ community owes the Black community a great deal of thanks and respect.
About The Image
In the image Black Pride, the intersections of Blackness and Queerness are visualised. Kennedi Carter shot this image in her hometown of Durham in North Carolina, US, just outside a Pride Festival. As she was leaving the festival to go elsewhere, she ran into a boy with the rainbow wings, who is captured in the photo.  She asked if she could take his portrait and he agreed. Using an analogue camera with a roll of film that would later need to be developed, Carter unfortunately lost the roll of film for some time. A couple of years later she accidentally got the roll of film processed and developed with some other films, then discovering the image, Black Pride.
Carter said: 'I just recently found the boy that I photographed after two years of searching and he loves it!"