Welkom
Welkom op de informatiepagina van de Pride Photo 2020. In deze tentoonstelling, die liep van 1 mei 2021 tot 30 januari 2022, lieten we naast de winnende foto's van de wedstrijd van 2020 een selectie van andere ingezonden foto's zien, die door onze curator zijn geselecteerd.
De beelden bieden een blik op levens en werelden die voor sommigen vertrouwd zijn, en voor anderen misschien verrassend, nieuw of zelfs een beetje ongemakkelijk. Met deze foto's willen wij bezoekers stimuleren om op een laagdrempelige en respectvolle manier na te denken over seksuele en gender diversiteit. Uiteindelijk hopen we een dialoog op gang te brengen over vooroordelen, en de vaak benarde mensenrechtensituatie waar de LGBTQ+ gemeenschap wereldwijd mee te maken heeft.
De tentoonstelling reist door Nederland naar de volgende locaties:
| | |
| --- | --- |
| 1 Mei – 20 Mei | Amsterdam Centrum |
| 22 Mei – 10 Juni | Groningen |
| 12 Juni – 1 Juli | Amsterdam Noord |
| 3 Juli – 22 Juli | Amsterdam Zuidoost |
| 24 Juli – 11 Aug | Amsterdam West |
| 13 Aug – 31 Aug | Amsterdam Oost |
| 2 Sept – 23 Sept | Maastricht |
| 25 Sept – 17 Okt | Assen |
| 19 Okt – 11 Nov | Den Haag |
| 13 Nov – 12 Dec | Weert |
| 14 Dec – 9 Jan | Zwolle |
| 10 Jan – 30 Jan | Amstelveen |
Kun je niet naar één van de locaties komen? Bekijk dan onze online tentoonstelling.
2020 Wedstrijd
Onze 2020 wedstrijd CURIOSITY – THE COMPASS TO OUR PASSIONS, richtte zich op nieuwsgierigheid, kijken zonder te oordelen, en de drang om andere mensen beter te begrijpen. Wij geloven dat dit een mentaliteit is die hard nodig is in een wereld van voortdurende verandering, en in een klimaat waarin polarisatie gebruikelijker lijkt dan het bouwen van bruggen. We vroegen fotografen om foto's te delen die nieuwsgierigheid opwekken over de LGBTQ+ gemeenschap, beelden die maken dat je meer wilt weten over wat je ziet.
Bezoekers Informatie
De openluchttentoonstellingen zijn overal en altijd gratis te bezoeken. De tentoonstellingen bestaan uit 20 panelen, elk met een korte beschrijving en een QR-code die u kunt scannen met de camera van uw telefoon. Deze brengt u naar onze website, waar u meer kunt lezen over de afbeelding(en). Sommige panelen hebben een koptelefoon icoontje, dit betekent dat er als bonus een audio-clip online staat over de beelden of het onderwerp.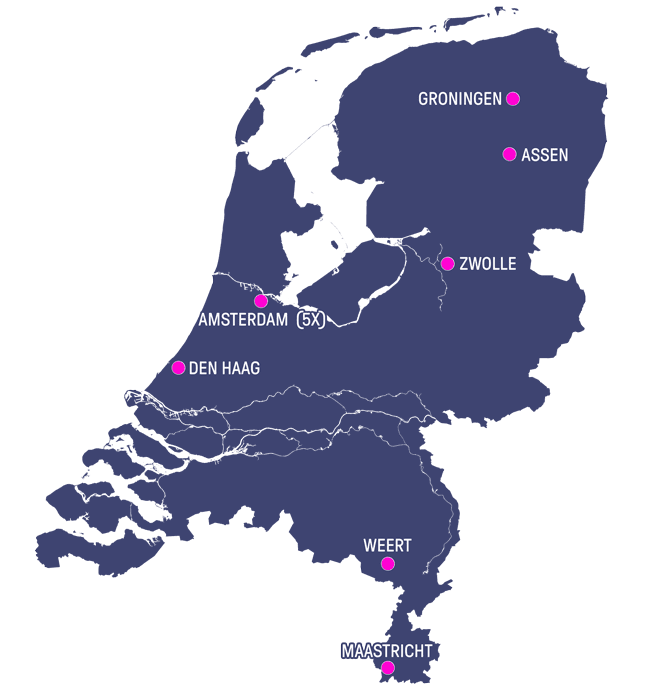 Welcome
Welcome to the information page of Pride Photo 2020. In this exhibition, which ran from 1 May 2021 to 30 January 2022, we showed a selection of other submitted photos, selected by our curator, alongside the winning photos from the 2020 competition.
The images offer a glimpse into lives and worlds that are familiar to some people, and may be surprising, new, or even a little uncomfortable for others. We want to encourage visitors to think about sexual and gender diversity in a low-threshold and respectful manner, ultimately, we hope to start a dialogue about prejudice, and the often plighted human rights situation the LGBTQ+ community faces worldwide.
The exhibition travels throughout The Netherlands to the following locations:
1 Mei – 20 Mei

Amsterdam Centrum

22 Mei – 10 Juni

Groningen

12 Juni – 1 Juli

Amsterdam Noord

3 Juli – 22 Juli

Amsterdam Zuidoost

24 Juli – 11 Aug

Amsterdam West

13 Aug – 31 Aug

Amsterdam Oost

2 Sept – 23 Sept

Maastricht

25 Sept – 17 Okt

Assen

19 Okt – 11 Nov

The Hague

13 Nov – 12 Dec

Weert

14 Dec – 9 Jan

Zwolle

>>

10 Jan – 30 Jan

>>

Amstelveen
Are you not able to visit any of the locations? See our online overview of the exhibition.
2020 Contest
Our 2020 contest CURIOSITY – THE COMPASS TO OUR PASSIONS, focused on curiosity, looking without judgement, and the urge to understand other people better. We believe this is a mindset deeply needed in a world of constant change, and in a climate in which polarisation seems more common than building bridges.
We asked artists to share images that trigger curiosity about the LGBTQ+ community, pictures that make you want to know more about what you see.
Visitor Information
The open air exhibitions are free to visit anytime. The exhibitions consists of 20 panels, each with a short description and QR code you can scan with your phone camera. This takes you to our website, where you can read more about the image(s). Some panels have a headset icon, this means there is a bonus audio-clip online about the images or topic!